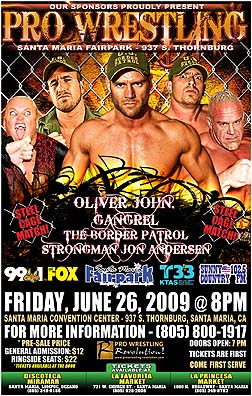 "Strongman" Jon Andersen was a guest on radio station, 99.1 The Fox, and talked about Pro Wrestling Revolution's appearance this Friday night at the Santa Maria Fairpark. We wanted to share a small piece of the interview with our fans. This was an interesting interview as it showed a side of the "Strongman" we have heard before.
Jon Andersen takes on Rik Luxury in a match that we are sure Rik is not looking forward to but we can bet the fans of Santa Maria surely are.
We hope to see all our fans come out and take part of our biggest show to date in Santa Maria!
Get your tickets here!