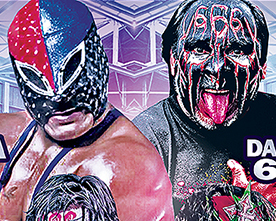 Pro Wrestling Revolution returns to Watsonville at the Watsonville Fairgrounds on Sunday June 21st, 2015 as we celebrate Father's Day, Dia del los Padres. What better way to celebrate it by having two sets of generations of luchadores wrestle on our event!
We have a Lucha Libre legend in Fuerza Guerrera and his son, Pro Wrestling Revolution Junior Heavyweight Champion, Juventud Guerrera! We have Damian 666, known worldwide from his iconic feuds with Onita in FMW ,the ground-breaking days in Promo Azteca, to of course WCW, and now his son Bestia 666 takes the reigns of "La Familia de Tijuana".
All that being said, you add the luchadores like El Ultimo Panda, Willie Mac, Brian Cage from La Migra, El Mariachi, Los Campesinos and so much more!
We want to thank all our sponsors and loo forward to this Fathers Day Bash!
MAIN EVENT
Hijo de Carta Brava & Damian 666 vs. Cazador del Alma & Fuerza Guerrera
PRO WRESTLING REVOLUTION JR HEAVYWEIGHT TITLE
Bestia 666 vs. Juventud Guerrera
SPECIAL ATTRACTION
La Migra ® – Brian Cage & Colt Stevens vs. "Kung Fu Hustle" Willie Mack & El Ultimo Panda
Grappler III vs. El Mariachi
Los Chicanos & Anarkia Jr vs. Los Campesinos & Marcus Lewis