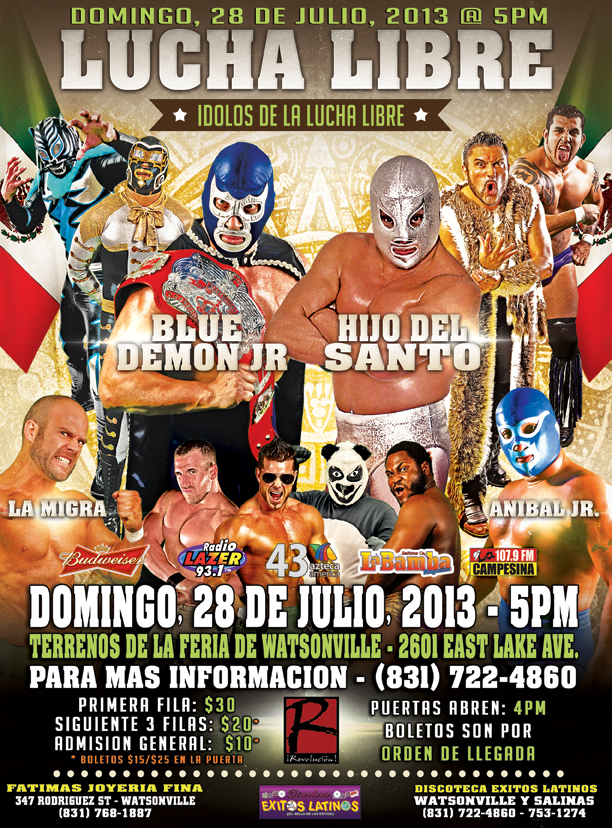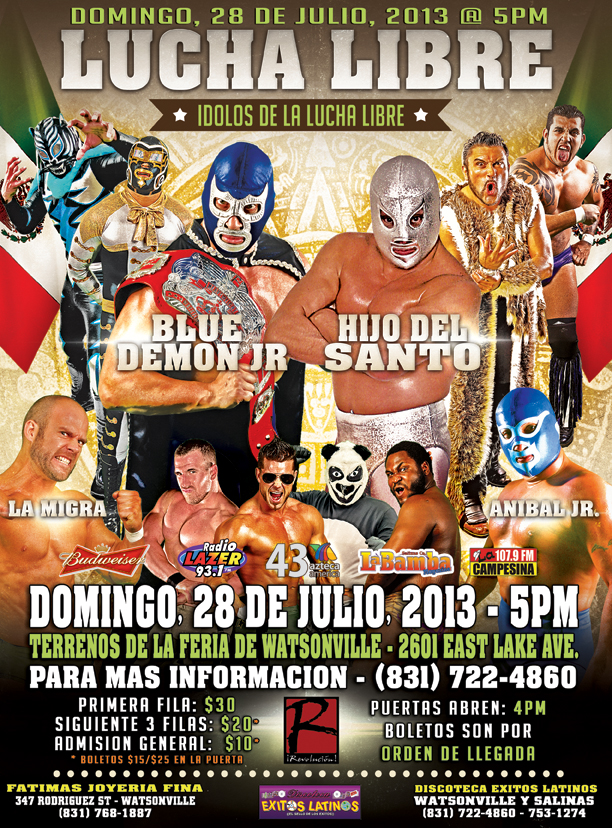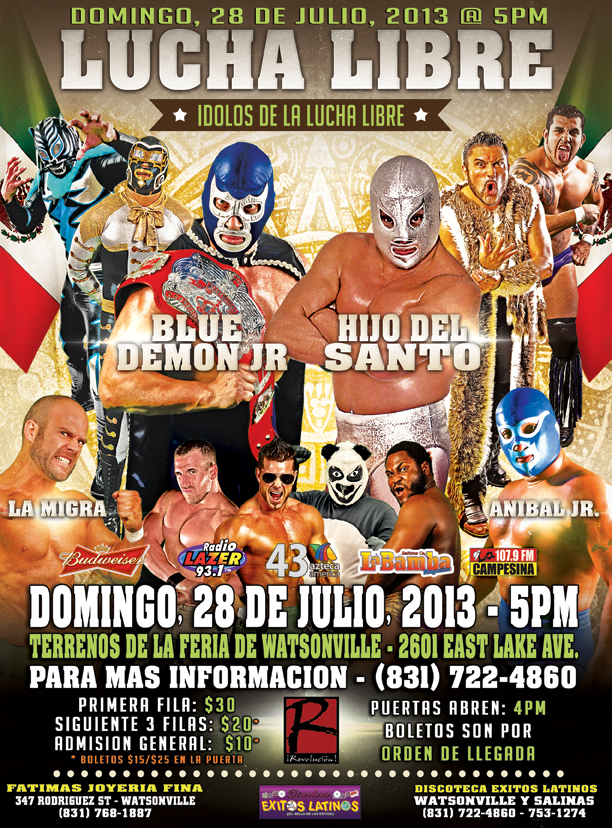 Pro Wrestling Revolution returns to its home away from home, Watsonville on July 28th, 2013 with "Los Idolos de la Lucha Libre" featuring Mexico's legends and Pro Wrestling Revolution World Tag Team Champion Blue Demon Jr. and El Hijo del Santo! We are so excited to be bringing this event to Watsonville where we have received so much support over the years. These two legends have send shockwaves around Mexico with their newly squires Revolution gold. We now bring you the opportunity to see these legends together, as tag team champions, something that their fathers' were never able to accomplish… until now, in Pro Wrestling Revolution!
Making their debuts on this loaded card a the son of the legendary Luchadore Anibal, Anibal Jr. intends on continuing his father's legacy in Pro Wrestling Revolution. In addition to being an accomplished lucha libre star, Anibal, Jr. is also an Olympic gold medalist in freestyle wrestling in Mexico and has been competing around the world for the past 15 years, El Gallao Tapado Jr, his father was beloved luchador in Mexico, and Drake Younger. We are excited to have them on our show and looking forward to see what they bring to our shows.
We hope to see you all at the matches…¡Viva la Revolución!
PRO WRESTLING REVOLUTION WORLD TAG TEAM TITLES
"El Poderoso" KAFU & El Dinamita vs. Blue Demon Jr. & Hijo del Santo
SEMI MAIN EVENT
"El Patron de La Migra" Oliver John vs. Anibal Jr.
SPECIAL ATTRACTION
Vaquero Fantasma vs. Gallo Tapado Jr.
PRO WRESTLING REVOLUTION JR HEAVYWEIGHT TITLE
Pantera  vs. El Mariachi
GRUDGE MATCH
La Migra vs. Los Gallineros
# 1 CONTENDER MATCH FOR JR HEAVYWEIGHT TITLE
"Notorious" Famous B vs.  Persian Prince vs. Drake Younger vs. "Wiggle Wiggle" Wille Mack vs. El Ultimo Panda