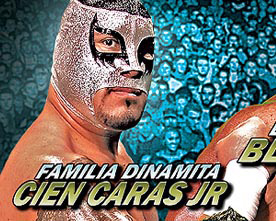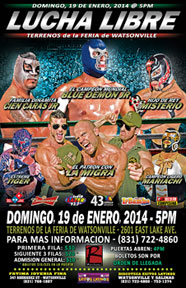 Pro Wrestling Revolution returns to Watsonville on January 19, 2014 as we kick off our sixth year with a bang. We always look forward to returning to Watsonville as we always feel right at home when we are there. This show gives us the debut of  many faces. Extreme Tiger who has made a name for himself in Mexico for AAA. Pro Wrestling Revolution has always enjoyed having second and third generation luchadores, and this show we bring you Cien Caras Jr., and making their debut from the Pro Wrestling Revolution Training Academy, Los Campesinos.
We have our Pro Wrestling Revolution World Heavyweight Champion and one half of the World Tag Team Champion, Blue Demon Dr., Hijo de Rey Misterio, La Migra®, El Mariachi, KAFU, El Ultimo Panda, and so many more! What a great way to start off 2014 and we hope you can join us for a fun night of Lucha Libre action!
PRO WRESTLING REVOLUTION WORLD HEAVYWEIGHT TITLE
Cien Caras Jr vs. Blue Demon Jr.
GRUDGE MATCH
"EL Patron" Oliver John vs. KAFU
PRO WRESTLING REVOLUTION JR TITLE MATCH
Derek Sanders vs. El Mariachi
TAG TEAM ELIMINATION
Hijo de Rey Misterio & Extreme Tiger vs. Los Luchas vs.
"Kung Fu Hustle" Ultimo Panda & Willie Mac Mack vs. Famous B & Brian Cage
WOMANS MATCH
Savannah Riley vs. La Pistolera
Rik Luxury & Ray Rosas vs. Los Campesinos