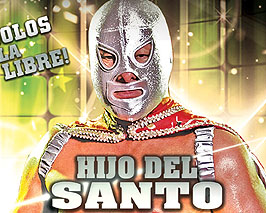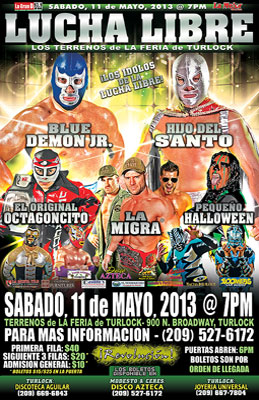 Pro Wrestling Revolution returns to Turlock on Saturday May 11th at the Fairgrounds in Turlock with a bell time of 7:00pm. Los idolos de la Lucha Libre make their arrival in Turlock as former Pro Wrestling Revolution World Heavyweight Champion – Blue Demon Jr. and the debut of one of Mexico's top star, El Hijo del Santo.
A great way to start the weekend! Standing in the way of these Lucha Libre idols are La Migra® – starting with El Patron – Oliver John and Bryan Cage and Derek Sanders!
We have the minis in action with Pro Wrestling Revolution World Minis Champion – Octagoncito taking on Pequeno Halloween, the debut of Ivelisse Velez as she takes on new Pro Wrestling Revolution World Woman's Champion – Cheerleader Melissa.
Pro Wrestling Revolution celebrates our 5 Year Anniversary on this show. It has been a roller coaster of  emotions, but very proud of where we are at now and even more excited to what the future holds for us. We have had many wrestlers and faces make their way in our company, and we thank them all, as they all have played a part in our path in reaching 5 years.
Gracias a todos…¡Viva la Revolución!
LUCHA ESTELLAR
PRO WRESTLING REVOLUTION TAG TEAM TITLES
Blue Demon Jr. & El Hijo del Santo vs. La Migra®
PRO WRESTLING REVOLUTION WORLD MINI TITLE
Pequeno Halloween vs. Octagoncito
PRO WRESTLING REVOLUTION WORLD WOMANS TITLE
Ivelisse Velez vs. Cheerleader Melissa
La Migra®  vs. El Mariachi
KAFU & El Dinamita vs. Famous B & Pantera
Vaquero Fantasma vs. Zokre vs. El Ultimo Panda vs. Willie Mack vs. Fantasma de la Opera