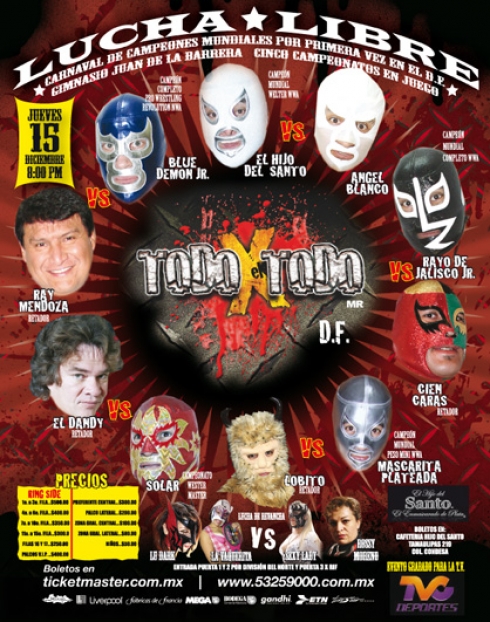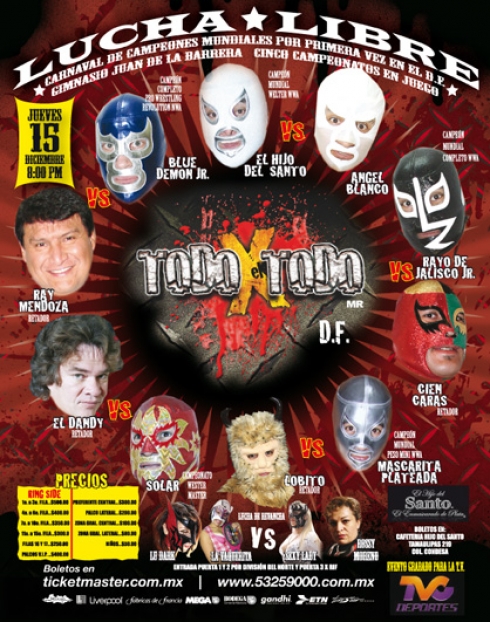 Pro Wrestling Revolution Heavyweight Champion is scheduled  to defend his title at "Todo X Todo: Carnaval de Campeones" on December 15th at "Gimnasio Juan de la Barrera" versus Ray Mendoza Jr.
Ray Mendoza Jr is a Mexican professional wrestler who has performed under the name Villano V until he was unmasked on March 20, 2009, after which he became known as "Ray Mendoza, Jr.". Mendoza and is part of the Mendoza family, a well known Mexican wrestling family that includes all five Villanos. Since making his debut in 1976 Mendoza has wrestled for every major Mexican wrestling federation including Universal Wrestling Association, Asistencia Asesoría y Administración and Consejo Mundial de Lucha Libre. He also worked for the United States based World Championship Wrestling (WCW). While being popular in Mexico, he frequently worked as enhancement talent in WCW, usually appearing on secondary shows like WCW Saturday Night.
We wish Blue Demon Jr. the best of luck in his match and our excited to be having continued Word exposure to our title!
WWA World Welterweight Title Two Out Of Three Falls Match
El Hijo del Santo (c) vs. Angel Blanco Jr.
WWA World Heavyweight Title Two Out Of Three Falls Match
El Rayo de Jalisco Jr. (c) vs. Cien Caras Jr.
Pro Wrestling Revolution  Heavyweight Title Two Out Of Three Falls Match
Blue Demon Jr. (c) vs. Ray Mendoza Jr.
Title Two Out Of  Three Falls Match
Solar (c) vs. El Dandy
WWA World Mini's Title Two Out Of Three Falls Match
Mascarita Plateada (c) vs. El Lobito
Tag Team Two Out Of Three Falls Match
La Vaquerita & Ludark Shaitan vs. Rossy Moreno & Sexy Lady