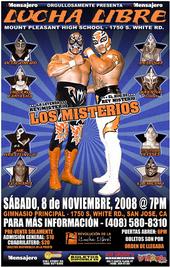 Pro Wrestling Revolutions returns to San Jose on Saturday November 8th 2008 at Mt. Pleasant High School after our debut show only 4 months ago. So much has happened in that time and we return with a incredible show that we are very proud of.
Confirmed are "Los Misterios" Hijo de Rey Misterio and Rey Misterio Sr. as they defend the Pro Wrestling Revolution Tag Team Titles versus the "Border Patrol". Making his return from Mexico is the living legend, mini Octagoncito. This show will mark the title match for the Pro Wrestling Revolution Heavyweight Title, we are very excited in the crowning of a new champion. We will have more details available soon, you can get your tickets here now.
We are proud to have El Mensajero as our sponsor for the show and thankful to have them on board. Make sure you show them your support and pick up a copy of the newspaper, you can find them all over the Bay Area.