Where did this year go? I have said this many times before, but this year has gone by so fast, I am shocked to be putting 2010 on posters for next year.
I just finished looking at all I wrote for 2008 and getting ready for 2009… well, I don't think I can do the same for this year, for the mere reason that so much happened. This year talent changed in a sense, and it has had a major impact on Pro Wrestling Revolution.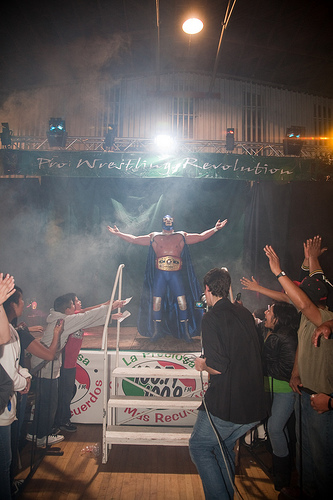 We started the year out in San Francisco, and it was met with a great success, along with the fact that we were able to help give two graduating students scholarships of $1000 each. That to me, meant a great deal.
King City was up and that meant the debut of Blue Demon Jr. and Rayman, son of Rayo de Jasilco Jr. This show was a sell out at 1800 fans, and it left me speechless. Blue Demon Jr. was a true professional and something told me we would work together again. Little did I know…
One of the goals I had set for us was to have 12 shows in one year, little did I know it would be met this year but met during the beginning of a recession. We had shows in new areas like Milpitas, Stockton Phoenix and Watsonville and continued our shows in San Francisco, King City, Santa Maria, Las Vegas, and a show at the Bakersfield Dome.
What sticks out in my mind, well many things, I still babble, nothing has changed there, so, here we go.
San Francisco – Working with so many people that care about what we do and allowing us to make a difference. Bob Gamiño is family now, period. There was a match that took place at one of these shows that sticks out, "Border Patrol" Derek Sanders and Ulysses, and this was to be a tag match and last minute, singles, and by far, solid and fun for those in attendance. The last thing that sticks out is having the Border Patrol attempt to pin a fake Blue Demon Jr. and Oliver John calling himself the real NWA World Champion.
King City – Oh, King City… it is all coming back now. The first show was like I said, 1800 fans and perfect. The second show, oh, the second show. I had Hijo de Rey Misterio not show up for me, a first and a shock to so many, it happens, but oh man. That same day, we had Blue Demon Jr. stuck in Texas and it was looking like he was not going to make it. We had Shocker in Los Angeles, stuck because of a bad lay over, and… not going to make it. These are the shows where you either make yourself stronger, or like many, you walk away, and I trust me, I wanted to run.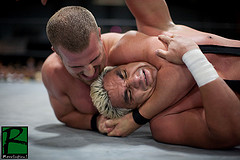 Fast forward, all parties that were flown in arrived except for Hijo de Rey Misterio, but, as I walk in, I get a text from my Camera Crew " Rented Car blew a tire, stuck in San Francisco, wont be there" Now, at this point, I was hoping one fan would show up. This day did turn for the better. Shocker and I hit it off and I introduced him to Jon Andersen, and now, the rest is history. Blue Demon Jr. arrived at 9pm, just in time to get into the ring and take on Oliver John. That night, I knew that he was going to be a huge part of what we wanted to do.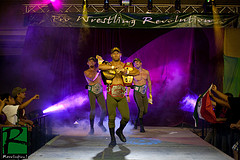 Stockton – The show was promoted well, sponsored by media and we drew in the area of 800. It was not what we wanted, but we put on a solid show. This show has bittersweet memoires for me, as this show gave me one of the best tag matches all year. Border Patrol – Derek Sanders & Zach Reeb and Ulysses and El Amante. Start to finish, it was perfect and nothing could of made it better.
What makes it bitter, well, that night, our company lost a friend and wrestler, he didn't pass, don't get me wrong, but to me, it surely felt like it. To this day, I wish him nothing but the best and hope to someday work with him again.
Milpitas – This show was our first show there, a fundraiser, and as great as it was, it was a huge reminder, that the Bay Area is tough to promote in… period. We had the debut of Super Crazy, Mascarita Dorada and Mystico de Juarez. This show was a reminder to many that ECW still lives with people.
The night prior, we had Super Crazy scouting talent for a look at possibly bringing them in for "Los Perros del Mal" They chose to pass on the talent for a bit, and that was a huge mistake.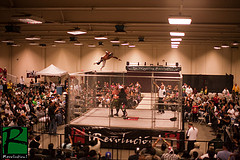 Santa Maria – We had our first Friday show, and I was so worried. We had set up a cage match as Blue Demon Jr. would take on Oliver John, a feud that seem to go on and on. The night before on Telemundo, our long time sponsor, Hijo de Rey Misterio challenged and demanded a cage match for the Pro Wrestling Revolution Tag Titles that he and his father never lost. The fans came in and gave us 1500 fans; this is on a Friday night, during a recession, very proud of all our work.
Bakersfield – Oh my god! Are you serious? The night before we had 1500 in Santa Maria, and the next day we have 150 at the infamous Dome. How is this possible? Well, I can tell you, but… I will refrain at this point and time and when the time is right, I will let it be knowm. I mean, CMON, 150!?!? Really? CMON!!!!
In the midst of all these shows, we had our first Fair Event show at the Santa Cruz County Fairgrounds, where we had a standing room only, as we crowned our Pro Wrestling Revolution Minis Champion, which is also the NWA World Mini Champion, we are very proud to have him… Octagoncito, very cool, and also delivered our first student, and by 2010, our first debuting wrestler from our school. We returned to Watsonville and had a solid show to end the year but we were far from done with business.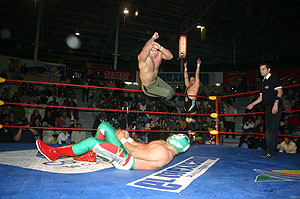 Blue Demon Jr. and Oliver John's feud took us to New York, New Jersey and Mexico and of course all our shows. There was an article done on their encounters for Pro Wrestling Illustrator's "The Wrestler".
During these shows, I was there and made some significant strides in making our company grow to a different level and hopefully, if we do expand into Mexico, it will be with our partner from NWA Mexico, Blue Demon Jr. Little did I know that he would end up becoming a friend, a family friend and then potentially a business partner. Life is so strange at times, but in pro wrestling, it is something else, ten fold.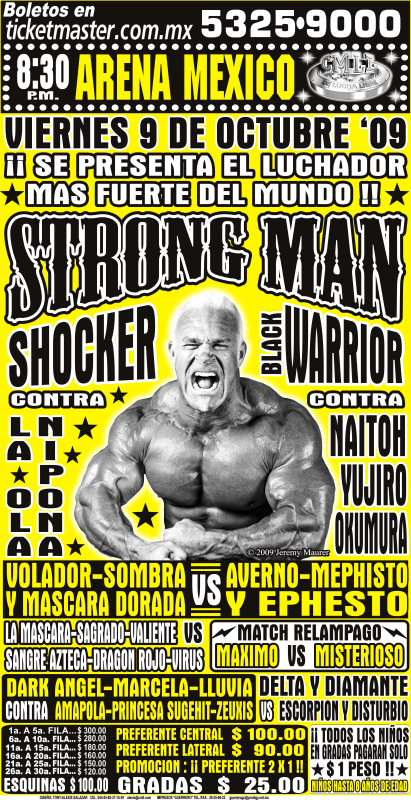 Mexico's newest sensation, "Strongman" Jon Andersen, Jon and I have really taken our friendship and business relationship to a new level. His work in CMLL is something I am very proud of, along with his trainer, Vaquero Fantasma. He is well on his way of changing things in lucha libre. "¡Ahora ya eres Mexicano!"
I have had people step up and help out so much. Tom Castor has taken over the booking of the talent on shows, with the assistance of Rik Luxury, whom I both trust with their ideas and I can't wait to see them grown in their roles in 2010.
In 2008, I met a luchador, Vaquero Fantasma, little did I know he would end up being a true friend, a business partner and have such a great interest in our small little company, Pro Wrestling Revolution. He shares the same ideas and has been a godsend to us. I don't know what I would do with out him in our company.
Vaquero el Space Cowboy, has sido un hermano para mí y te agradezco por siempre hacer los sacrificios que haces para nosotros y la Revolución.
Dave Marquez, for allowing me to grow with the NWA and trusting me. You are a person with a vision and I am here for the ride. Now, if I could only understand your Spanish.
Thank you for reading all this and I appreciate all the support we have received from media, fans and family, especially this whacky photographer who had changed the way I thought images should be taken for shows…and yes, yes I know… photo credit © 2009 Jeremy Maurer.
Of course, through out all this, none of this would be possible with out the love of my life, my wife Shannon, and my two daughters. They are the reason I do this, and what keeps me going.
¡Viva la Revolución!