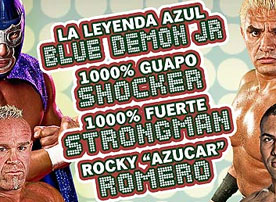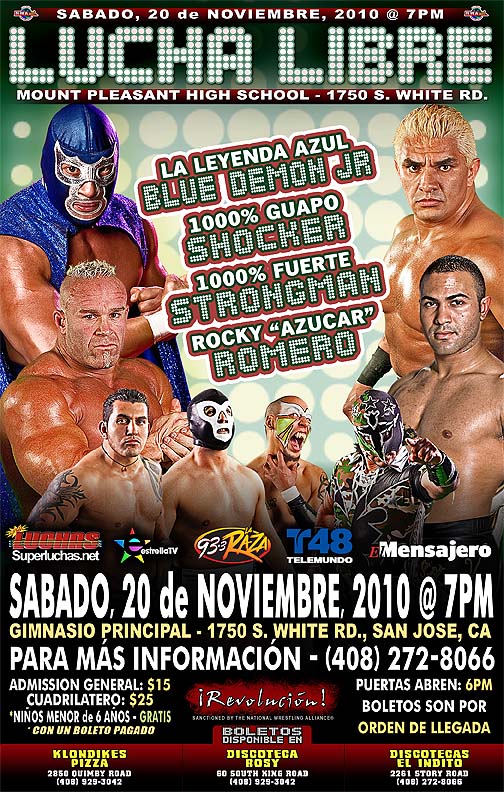 Pro Wrestling Revolution makes its final stop of 2010 in its hometown of San Jose. We close out the year with a great show full of talent from around the world. We have returning from Consejo Mundial de Lucha Libre (CMLL) "1000 Guapo" Shocker and "1000 Fuerte" Strongman. Making his debut in Pro Wrestling Revolution, he is known in all the top wrestling markets, formerly from Asistencia Asesoría y Administración (AAA), he is "Azucar" Rocky Romero!
The Pro Wrestling Revolution Heavyweight Champion Blue Demon Jr. brings home the gold and wastes no time, as he faces the Border Patrol, and nobody knows what can happen when you have them in the same place.
PRO WRESTLING REVOLUTION HEAVYWEIGHT TITLE
"Border Patrol" Derek Sanders
vs.
Blue Demon Jr.
PRO WRESTLING REVOLUTION TAG TEAM TITLES
Vaquero Fantasma & Oliver John
vs.
"1000% Fuerte" Strongman & "1000% Guapo" Shocker
PRO WRESTLING REVOLUTION JR TITLE
"Azucar" Rocky Romero
vs.
Mr. Wrestling IV
Famous B & Rik Luxury vs. El Dinamita & El Hijo del Chupacabras
Vinnie Massaro vs."Polyester Express" Dyno'mite Dave
El Cazador del Alma vs. El Galactico
Get your tickets here!