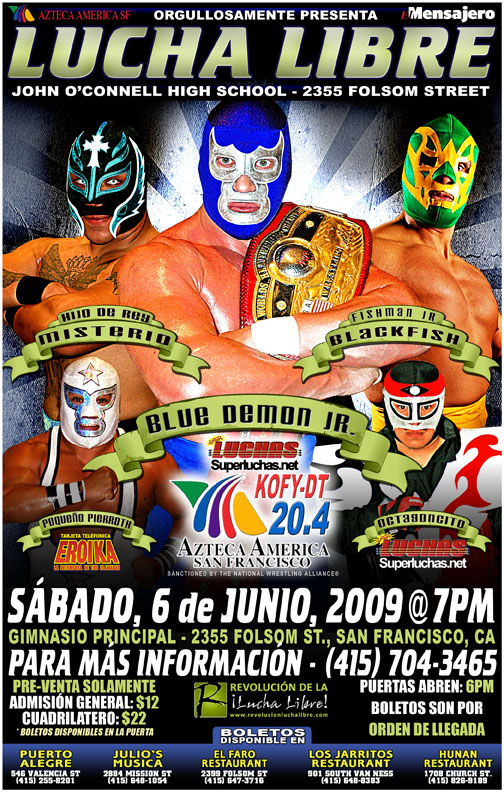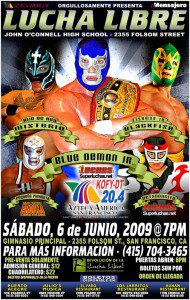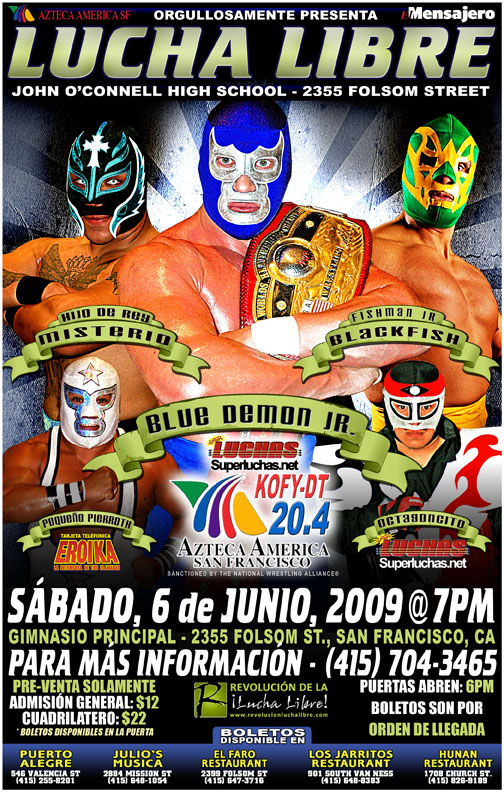 Pro Wrestling Revolution returns to San Francisco with its biggest show yet. The feud between Oliver John and lucha libre legend, Blue Demon Jr. continues, and it will continue at John O' Connell.  Every since his victory over Gangrel in November of 2008 in San Jose, Oliver John has been on a vendetta to take on Blue Demon's NWA World's Title, and has gone on to call himself the real World's Champion. The NWA Heritage Title is now in the hands of Oliver John, making him a double champion in the National Wrestling Alliance, only fueling his fire.
All your favorite Revolution stars will be on hand,  Hijo de Rey Misterio, The Border Patrol, Mr. Wrestling IV, Cheerleader Melissa, Rik Luxury, and making their debuts in San Francisco are, Fishman Jr – Blackfish and the minis, Octagoncito and CMLL Champion, Pequeño Pierroth and of course, the Living Legend, Blue Demon Jr.!
MAIN EVENT
"NWA World Champion" Â El Hijo de la Leyenda Azul -Â Blue Demon Jr.
vs.
"Pro Wrestling Revolution Heavyweight Champion" Border Patrol – Oliver John
SEMI MAIN EVENT
Vaquero Fantasma & Blackfish & Anarkya
vs.
Hijo de Rey Misterio & Ulysses & El Amante
MINIS MATCH
Pequeño Pierroth vs. Octagoncito
Border Patrol – Derek Sanders & Zack Reeb
vs.
Polyester Express w/ "Dazzling" Dixie Lane
Rik Luxury vs. Mr. Wrestling IV
Get your tickets here!