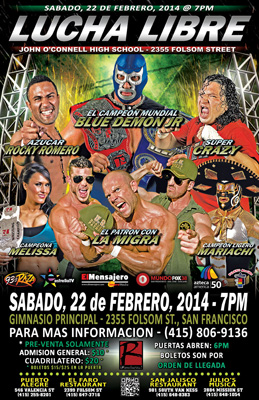 Pro Wrestling Revolution makes its return to San Francisco for its annual fundraiser at John O' Connell High School. Everybody always looks forward to these shows because of all the support that this event gets, from media and the fans. The building is always full of fans that make each show special and this show should be no different.
This show gives us the return of the "Extreme Luchador" Super Crazy, "Azucar" Rocky Romero and Christina Von Eerie and we welcome them back after time away from the Revolution. You add them to Pro Wrestling Revolution World Heavyweight Champion – Blue Demon Jr., "El Patron" Oliver John, KAFU, El Mariachi and so much more, this show has all the makings of a show, that you can not miss.
We want to thank all our media sponsors, Azteca America 50, EstrellaTV 42, MundoFox, La Raza, and El Mensajero, year in and out we thank them for their continued support and making this possible.
We will see you at the show…¡Viva la Revolución!
MAIN EVENT
Timothy Thatcher vs. Blue Demon Jr.
SEMI MAIN EVENT
"La Migra" El Patron – Oliver John & Bryan Cage vs. "Azucar' Rocky Romero & "El Poderoso" KAFU
SPECIAL ATTRACTION
La Pantera & "Notorious" Famous B & Drake Younger
vs.
"Kung Fu Hustle" – Ultimo Panda & Willie Mac & "Extreme Luchador" Super Crazy
PRO WRESTLING REVOLUTION JR TITLE
El Mariachi vs. "La Migra" – Derek Sanders
PRO WRESTLING REVOLUTION WORLD WOMANS TITLE – 3 WAY
Christina Von Eerie vs. Savana Riley vs. Melissa Anderson (c)
Vinnie Masarro & El Pistolero vs. Los Campesinos