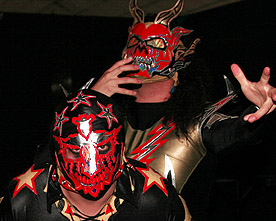 Pro Wrestling Revolution returned to Watsonville on Sunday, January 11th, 2015 to bring in the New Year! There is no better way than starting off the year with a show in at the Fairgrounds in Watsonville, our home away from home.
Juventud Guerrera, the Pro Wrestling Revolution World Junior Heavyweight Champion made his debut in Watsonville and all were ready for the "Juice"!
We are very proud of our Training Academy as at has produced, El Mariachi™, Los Campesinos, Persian Prince, "El Chicano" Memo Cuevas and now we have the debut of our newest grappler, we welcome to him to the Revolution family, Anarkia Jr.
Results:
Blue Demon Jr. & Rocky Romero over Border Patrol
Juventud Guerrera over "Notorious" Famous B
Los Luchas over Vaquero Fantasma & Cazador del Alma
Jeckles – Ultimo Panda – El Mariachi over Virgil Flynn & "Los Chicanos"
Kianna Rivera over "Border Patrol" Savannah Riley
The Grapplers over Los Campesinos
Anarkia Jr. over Vincenzo Masarro