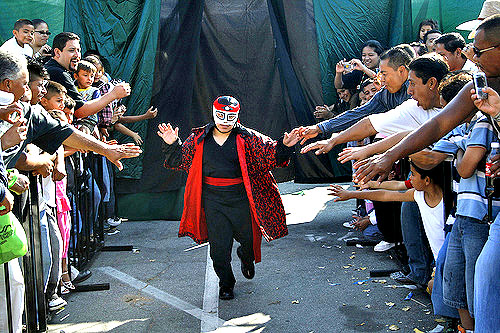 Oakland joined the Revolution this past weekend as we took part in the Mariachi Magic festival that was hosted by El Mensajero and Amigo Reality. There were many attractions taken place during the festival, obviously Mariachi bands, Radio stages, mechanical bulls and tons of food and vendors.
Once the Pro Wrestling Revolution ring was being set up, the people were lining up and taking their places as they did not want to miss the show. Seeing all the excitement in all of the faces from kids to adults is always a pleasure to see and even better to be a part of.  We are very thankful for everybody's help in making this the success it was and we look forward on doing this again next year.
Here are the results and images from the show.

Hijo del Sicodelico & Hijo de Rey Misterio over The Border Patrol
Octagonito over Pequeno Pierroth
Tito Aquino over Mr. Wrestling IVÂ 
"La Raza" Anarkya – Juventud 2000 – Vaquero Fantasma over Viajero – Gladiador Azteca – Stigma
Jeckles the Jester over El Amante
"Rock of Love" Billy Blade & Kayden over Rik Luxury & Ryan Von Cool 
"Strongman" Jon Anderson over Shadow Dragon 
Click here to see the images from the show!