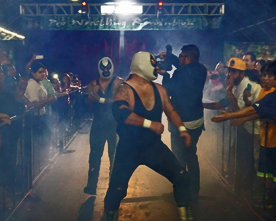 Pro Wrestling Revolution made its debut in Santa Rosa, California at the Santa Rosa Fairgrounds on Sunday May 17th. We are excited to have brought the Revolution to a brand to a new city and received with open arms. Manly Honda in Santa Rosa went out of their way to make every effort to make this show a success. We look forward to working with them on many shows to come!
The crowd was incredible and loved every minute that we were there, and these are the cities we love to have on our tours. We will be back, sooner than you think!
Muchas gracias to Exitos 98.7, El Patron and La Zeta Radio for all the support!
Results:
El Mariachi & Blue Demon Jr. over La Migra
Cazador del Alma vs. El Ultimo Panda over Vaquero Fantasma vs. Rey Buccanero
Cristina Von Eerie over La Travesia
Los Campesinos over The Grapplers
El Pistolero over "El Chicano" Memo Cuevas
Images:

[fsg_gallery id="1″]