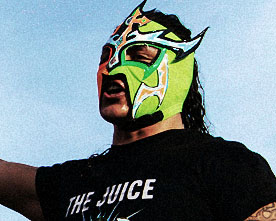 Pro Wrestling Revolution returned to the Santa Clara County Fair, and we could not be any more excited.  It is always a blast to take part in such a great family event like the Fair and when our home base is San Jose, it is that much sweeter. Seeing so many familiar faces from many other cities we have had hows at, and making new fans… it doesn't get any better.
We are thankful to have been a part of this and thank you all for your continued support.
We will see you next year!
MATCH RESULTS:
Juventud Guerrera over Bryan Cage
Los Luchas over Vaquero Fantasma & Gallo Tapado Jr
El Mariachi overBrian Kendrick
Virgil & Famous B vs. "Kung Fu Hustle" Willie Mack & El Ultimo Panda
PRO WRESTLING REVOLUTION WORLD WOMANS TITLE:
Cristina Von Eerie over Savanah Riley – Kianna Rivera – La Furiosa
KRATOS over Chase Stevens and "El Chicano" Memo Cuevas
El Pistolero over  El Campesino II
SHOW IMAGES: