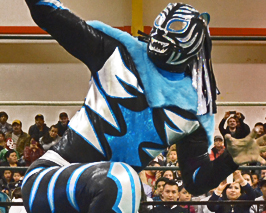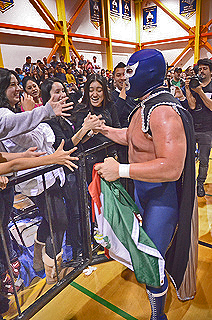 San Francsico, what a night, great show, great vibe, and of course, our largest crowd at this venue, yet. Working with the school for neatly 5 years now, we have had the crowd always support the community but this show, had a different feel, there were fans from our shows, from other towns, from our marketing and good old fashion word of mouth.
We had record sales online, we had a large will call list, and going into the show, we all had a incredible vibe. We had a sold out crowd, with disappointed fans turned away , fans who decided to leave and scalped their tickets to others, it was something incredible.
All the wrestlers had the same special vibe and went out and delivered an incredible show that fans will not soon forget. The crowd was diverse and all had come to see their favorites, as you could look out and see t-shirts of their favorite Revolution stars, El Mariachi™ , Ultimo Panda, Blue Demon Jr., Pro Wrestling Revolution and believe it or not, La Migra® as well.
We had the debut of Dark Angel from Consejo Mundial de Lucha Libre (CMLL) as she came in to battle Melissa Anderson for the Pro Wrestling Revolution Woman's World Title, as two prior Womans' champions call CMLL home, Lady Apache and Princesa Sugey. Dark Angel stole the hearts of all the fans in attendance but Melissa was one step ahead and took home the precious title.
The show was a success for John O'Connell, Pro Wrestling and all the fans. All this was made possible by our sponsors, and we can't thank you enough. We will see you next year!
Here are the results:
KAFU & El Dinamita & Blue Demon Jr. over  The Border Patrol® – Bryan Cage & Derek Sanders & Phoenix Star
Cheerleader Melissa over  Dark Angel
El Mariachi™ over Famous B.
Pequeno Halloween over Octagoncito
"Kung Fu Hustle" Willie Mack & El Ultimo Panda over Fantasma de la Opera & Pantera
El Pistolero & Dark Angel over Grappler III  & Cheerleader Melissa
Here are the images: