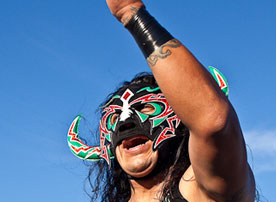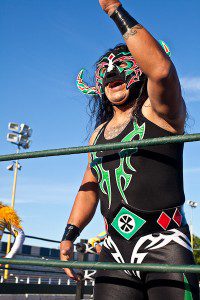 Pro Wrestling Revolution made its debut in Sacramento at the Sacramento County Fair. It was the first time the fair has wrestling there and it was great to be the first ones to brought in. It is a small stepping stone in where they want to be and we look forward to working with them in taking this to the next level.
It was a very hot day and we thank all our staff and wrestlers for all their efforts and we thank the Fair for making all the accommodations as best as possible.
We welcomed the debut of Pcicosis to Pro Wrestling Revolution and we look forward to working with him again in the near future, and who knows who he brings with him next time.
Here are the results:
Mascara Sagrada & Rey Tigre over Vaquero Fantasma & Pciscosis
Oliver John over Mr. Wrestling IV
Octagoncito over Pequeno Pierroth
Chupacabras over Brian Cage
Polyester Express over Rik Luxury & Vincenzo Massaro
El Cazador over El Galactico