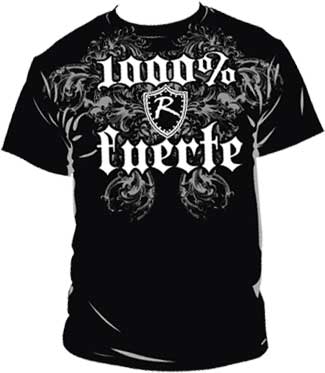 Pro Wrestling Revolution has been putting out merchandise from the first show we had and in standard fashion, we have always found ways to keep it fresh, from the wrestling aspect and now, the merchandise. Â We have put out t-shirts in multicolor, English and Spanish, hoodies and even merchandise for Hijo del Rey Misterio, and t-shirts to help raise funds for Rey Misterio Sr. to help out with his current medical bills and soon for Blue Demon Jr.
Our latest release is a t-shirt is for the new star Revolution athlete, making a great name for himself in Mexico for Consejo Mundial de Lucha Libre (CMLL), Â he is 1000% Fuerte, Jon Andersen. It is now made available in Mexico at all arenas where you can find the Strongman in action and at all Pro Wrestling Revolution shows here in the United States. It will be made available at the One Stop Wrestle Shop in the coming weeks.
Just this past week, the t-shirt appeared on national television in Mexico, for the TV show "Ras de Lona", Â as the Strongman pulled a 50 ton bus! It was a sight for all to see and great way to show off our new shirt.