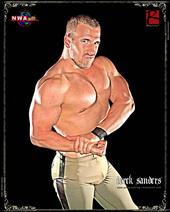 Pro Wrestling Revolution welcomes the newest addition to the team of trainers at our school, he is Derek Sanders! He will be one of out trainers who will be a part of the Pro Wrestling section of our school. He will be teaching and assisting KAFU. Derek is a great addition not only in the ring, but also with his knowledge of weight training.
Derek has wrestled in Mexico, Canada and Portugal and vital member of Pro Wrestling Revolution's events through out California and Nevada.
The team of trainers for our Men's division of Pro Wrestling is now complete.
KAFU as the Head Trainer
Derek Sanders as Assistant Head Trainer
Tom Castor in charge of referee training
2010 will be an exciting year as we venture out to make our school a success, we look forward to new students who want to learn pro wrestling. We are confident, no school can offer you this team of trainers with experience and knowledge. Stay close to our site as we release prices for the school. If you are interested in our school, classes will start in April, so please fill out our online training application here.