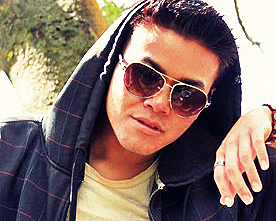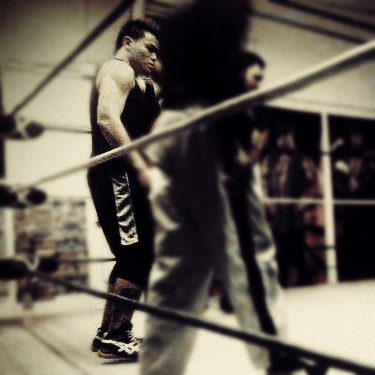 At age 7 I started watching Monday Night Raw also known as the Attitude Era with my mom and dad. First match I saw was between Triple H vs Goldust but neither of them caught my attention it was Triple H's bodyguard the debut of Chyna who first caught my attention due to her strength, competing against male opponents, and proving that size and gender does not matter. Another wrestler that caught my attention was Bret "The Hitman" Hart, Bret Hart was a dedicated warrior in the squared circle, and his own character inspired me so much that as a kid I wanted to wear his leather jacket and pink sunglasses looking like a badass. Growing up I never really owned a lot of the WWE merchandise but I did collect the magazine articles and PPV event video tapes. My father would buy and collect WWE video games which came out every year starting from 1999.
When I played the game and created my own character, I ended up in the moves section I was completely lost when I saw the list of moves because I did not understand what these moves mean since all I knew was the body slam, sleeperhold, and suplex. I ended up going down the list and kept replaying the move over and over again while I was calling out each of the moves even though I couldn't pronounce the move right such as hurracanrana, piledriver, and so on. Studying the moves from the video game gave me the knowledge to understand the match more when I watch wrestling. When I finally knew how to use the computer I would constantly look up almost every single WWE wrestlers biography from the past and present such as Ricky Steamboat, The Ultimate Warrior, The Hart Family, Luna Vachon, Chris Jericho, Mick Foley, & many more. I was addicted to watching wrestling every week that I just end up remembering the moves and memorable matches such as The Rock vs Triple H and Kurt Angle vs Chris Jericho.
When I was 12 years old I moved to a town called Chico and living there was really hard for me because I was a very shy kid and most of the time I would get teased and picked on because kids assumed I was gay due to my feminine movements. It was really hard for me because not only kids were making fun of me but also my own relatives such as cousins, aunts, uncles, they would call me a woman or a fag in their language and it always hurts me a lot and I would cry in my bedroom beating myself up because I literally was confused and had no idea why people were calling me names. 5 years later when I turned 17 and after I graduated from high school I came out to my parents that "I'm Gay", my parents were irate and furious my mother don't believe in gay marriage. I was hurt even more but felt a lot better that I am finally finding myself and not being someone who I am not.
A couple years later my parents divorced because my mother was tired of my father gambling and betting on football. I wasn't able to see my little sister growing up, I also ended up back in San Jose jobless, didn't go to school and I was heartbroken because I realize that I no longer have a family , no longer having the tradition of thanksgiving , Christmas, and celebrating my birthday with my own family anymore because they left me. Luckily my aunt offered me to stay at her place so I can recover from my pain and get back on my feet. In 2011 I decided to go back to school to major in Photography and Art History I thought to myself maybe I should give pro wrestling a shot and see if I may like it or not.
So I searched for wrestling schools in San Jose, CA and I found Pro Wrestling Revolution from there I would search their price, training academy , and their training instructors. I would look up Kafu, Derek Sanders, and Robert Thompson biography and their matches on YouTube. I emailed the owner of Pro Wrestling Revolution – Gabriel Ramirez and asked him if size matters because I am only 5 foot 8 and 145lbs. Gabe emailed me back asking me to apply to their application and someone will be in touched with me soon. I waited a year later after I found a job and sold my car to save up the money for the wrestling school tuition. Finally during the fall semester of 2012. I applied to their training academy application just a day later Gabriel Ramirez called me right away, I was surprised and he told me to swing by at the academy and have a talk.
When I joined the academy I was very scared about my personal sexuality I was afraid the trainers and students may treat me different for being Gay but surprisingly they didn't care about it at all even with the students I was wrestling with they just treated me normal like I am one of their brothers. After that night when I got home I ended up bursting into tears of joy because I was so happy the fact that I am about to transform my dreams into a reality, the dream I always had as a kid wearing a black leather jacket like Bret Hart stepping into the squared circle and wrestle.
My goal at the academy is to not just only transform to a professional wrestler but to also becoming an inspiration for many young gay men and women who struggles about their sexuality while trying to become an athlete. The Pro Wrestling Revolution Training Academy is a wonderful school to train new wrestlers, the students here are really kind hearted and amazing, the trainers always work very close and they will teach and lecture each of the moves until you get it also ring psychology and full knowledge about the wrestling business. I highly recommend Pro Wrestling Revolution Training Academy whether you want to become a pro wrestler, referee, or wrestling manager this school has all the tools for you to learn and to start your dream career into a reality.