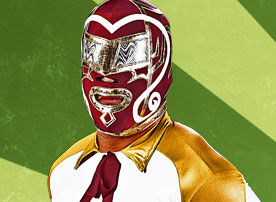 I, as many others had a dream growing up, no I dint want to be a police office or a fireman, I wanted to be something else, I wanted to wrestle! I remember watching a wrestling as a kid and being enamored with it, I would watch it every week and just sit there and imagine myself walking down that ramp. As I grew up I still had that idea in my head, I wanted to be a wrestler. So I started looking up wrestling schools around the area and I found one that claimed to be the best in the U.S. I sent an e-mail and soon enough I heard from the owner and thus began my journey, the journey to become a wrestler.
I met in Hayward with the owner of the company and got a tour of the facility and signed immediately. I began my training in January '09, a year after I signed. At that time I had a job that consisted of me working evenings. After talking to my boss I worked out a deal and he allowed me to work 2 hours and leave to Hayward, come back and work till 4am. It was a hassle but I decided to do it, this was my dream. So I began my training. I showed up expecting to Hayward and training was intense, but quickly slowed down. But in my class I met fellow classmates who ring announced for Pro Wrestling Revolution. She was set to debut a valet and asked me if I was interested in ring announcing and taking her spot. Without hesitation I took it, not knowing what to expect, something that would change my direction towards something better.
I drove 5 hours down to Santa Maria for a Revolution event where I was suppose to debut as the new announcer. When I showed up I met Pro Wrestling Revolution owner and promoter, Gabriel Ramirez for the very first time. Finally a Latino, I thought to myself. After a tryout Gabe decided against me being the full time announcer, so I was set to the special guest "Spanish Announcer" for the evening. After returning to Hayward and resuming my training I heard a lot of people's displeasures in me working for Revolution. I didn't let it bother me and resumed my training. The training there was great, and I learned a lot and forever will be grateful to all my trainers there. On July of 2010, I seen training had slowed down even more, not really training much, and seen the displeasure for me and my relationship for Revolution was still hurting me on advancing. Gabe would call me weekly and see how my training was going; but on his last call, I decided to join the Revolution and visit the Pro Wrestling Revolution Training Facility. He had acquired former WWE Developmental Kafu, and Derek Sanders as trainers, so I decided to enroll full time with the Revolution! And hence began yet another saga in my journey.
After training in both the lucha libre classes and the American style classes at Pro Wrestling Revolution Facility I felt like I was at home. The brotherhood and atmosphere was so much different. I felt welcomed with open arms by both of my trainers, students and staff. This is what I needed this is what I missing. After almost giving up my dream up in Hayward, I found my fire being lit up once again in San Jose. I learned so much in the short 5 months under Kafu and Derek, than I did in my 1 and a half years up north. As an announcer the feeling while I wait behind the curtain as my music started is amazing. Like no other feeling I've ever felt before. And now that I'm set to debut, I'm set to live my dream; as I walkout in San Francisco, in front of the crown of John O'Connell High School, the feeling is in me again. The butterflies are in my stomach, and the newest saga begins….. The saga of "El Mariachi." Come February 5th, 2011 my journey will just be BEGINNING! Three Years in the making!