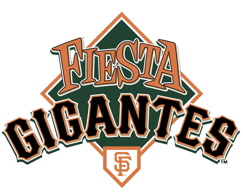 Pro Wrestling Revolution is excited to be working with the San Francisco Giants once again. We will be taking part of 6th Annual Fiesta Gigantes Event at AT&T Park – in honor of Hispanic Heritage Month. We worked with the an Francisco Giants this year for the Cinco de Mayo celebration, that included a show with a Mascot Battle Royal. We will be present with a booth taking part of the festivities.
For the very first time, the Giants have combined Latino Heritage Day and "Fiesta Gigantes" to bring together an all-day celebration of Latino culture on Saturday, Sept. 18. The special event ticket package includes a seat in the Latino Heritage Section, access to special VIP sections during the pre-game cultural festivities at the Giants' annual "Fiesta Gigantes," and a "No-Hitter Edition" Jonathan Sanchez bobblehead. Carlos Santana will be in attendance and proceeds will be donated to his influential Milagro Foundation to aid in the mission of assisting underserved youth around the world. Both teams will be donning their Spanish jerseys with Giants wearing Gigantes and the Brewers sporting Cerveceros.
This is a FREE event featuring:
Live Music, Entertainment, Food, and Children's Area
Los Reyes de Arranque, Café Canela, Alma Desnuda, & Ballet Folklorico Costa de Oro
Live appearance by Giants players
Giants players will wear "Gigantes" jerseys
Tentative schedule of performances:
3:05 – 3:20 Ballet Folklorico Costa de Oro
3:25 – 4:00 Alma Desnuda
4:00 Р4:45 Caf̩ Canela
4:45 – 5:00 Player Appearances
5:00 – 6:00 Los Reyes de Arranque
¡Muchas gracias a los Gigantes de San Francsico y que viva la Revolución!