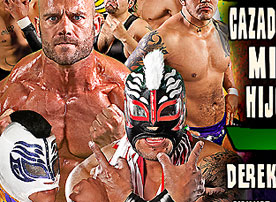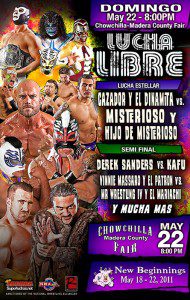 Pro Wrestling Revolution makes its debut in the city of Chowchilla at the Chowchilla-Madera County Fair, on Sunday May 22 , with a starting time of 8pm. We look forward to the sights and sounds of the county fair, and of course all the families having a great time. We are thankful we are a part of the events for this Fair.
This show will feature all the stars of Pro Wrestling Revolution and a special match with the tag team of father and son, El Misterioso and El Hijo de Misterioso, a first for these two, and we are excited to be the promotion they chose to do this in.
The fairgrounds are also home to the Chowchilla Western Stampede, the Chowchilla Speedway, a 1/3-mile oval dirt track, with racing March through October, and the Chowchilla Barn Burner.
LUCHA ESTELLAR
Cazador del Alma & El Dinamita vs. "Padre y Hijo" Misterioso & Hijo de Misterioso
PRO WRESTLING REVOLUTION JR TITLE MATCH
La Pantera vs. Mr. Wrestling IV
Derek Sanders vs. "El Poderoso" KAFU
Vinnie Massaro & Oliver John vs. Famous B & El Mariachi
Bryan Cage vs. El Chupacabras