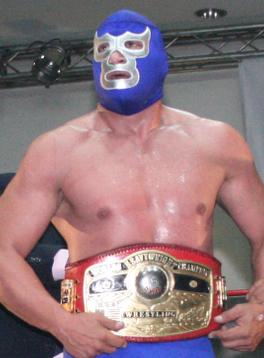 When Blue Demon Jr. beat Adam Pearce for the NWA World Heavyweight Title in Mexico City, he became the first Mexican and masked wrestler to hold this coveted belt. When you consider the long list of talented wrestlers through out the years in the NWA with the same criteria, only then, can you begin to fathom what that truly means.
Those who know Blue Demon Jr. can tell you what holding the belt means to him, but you have to wonder if holding the belt has also put him on high awareness, looking over his shoulder. His feud with Adam Pearce was never settled and as of this month, it has resurfaced in Tijuana, Mexico. Pro Wrestling Revolution Heavyweight Champion and NWA Heritage Champion, "Border Patrol" Oliver John, has feuded with Blue Demon in California, New York, and Mexico, and nothing seems to be slowing down between them.
Many feel Blue Demon was prepared for such battles as mentioned but nobody could of imagined what was going to take place in Mexico. He has been facing competitors from all over, and all out for one thing, his NWA World Heavyweight Title, but with a furry that now has Blue Demon Jr. calling out for help from the NWA.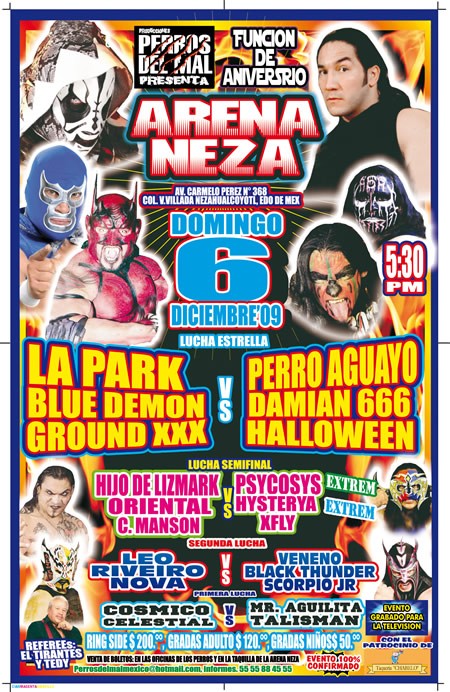 On December 06, 2009 in Mexico at Plaza Neza for the Lucha Libre Promotion, "Perros del Mal", Blue Demon Jr. took part in a six man tag main event with LA Park and Ground XXX, taking on the leaders of the promotion, Hijo del Perro Aguayo, Damian 666 and Halloween. Fans all expected a heated match, including all participants, but what was not expected was Ground XXX turning on Blue Demon Jr. and "Perros del Mal" demanding an NWA World Title match.
Never at a loss for words of wisdom, Blue Demon Jr. was faced with media from all over Mexico, all filled with questions about his NWA World Heavyweight Title and would he give them a shot. Blue Demon proceeded to eloquently state that the NWA was a promotion built on a foundation of history and is established with a chain of command, where antics as these would not hand them a title shot. He went on to say that he has reached his limit with issues like this and did what nobody expected… Declared war! He stated…" I came to this promotion, Perros del Mal, but now, but now the NWA is coming here, and I will make sure it does!"
NWA President Bob Torbich, was not available for a comment but rest assure, the NWA World Heavyweight Title has put the NWA in a position, where a decision needs to be made.