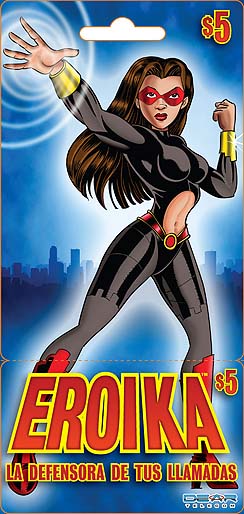 Pro Wrestling Revolution continues to work hard behind the scenes to make our shows a success and we are excited of the new sponsor we have partnered with. We have worked with television, radio, newspaper, and online marketing, and now we are excited about our new venture into the world of telephone communications. We have joined with the newest pre-paid phone card in the market, EROIKA, defender of your phone calls, look for it at your favorite phone card dealer!
When a customer purchases am Eroika card, before they make their call, they will have the option to hear Pro Wrestling Revolution's latest commercial for the upcoming event. This is something we are very thankful for having the opportunity and we can only hope we can be able to produce for them like they have for us.
There are talks of a Eroika the super hero coming to life, we wonder where she will show up first!
Junto con la tarjeta telefónica, EROIKA, la defensora de tus llamadas, busque la en tu tienda favorita!!!