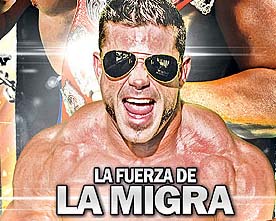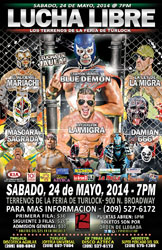 Pro Wrestling Revolution returns to Turlock, Ca on Saturday May 24th with a big card featuring a Tag Team Cage Match! We have all your favorite Pro Wrestling Revolution luchadors, Blue Demon Jr,. Mascara Sagrada, Damian 666, and the debut of  "Super Mex" Hernandez!
The Cage Match is one of the most dangerous matches in wrestling, and when you have four wrestlers in there at one time, nobody knows what to expect, but one thing for sure, never a dull moment, from top to bottom.
The ongoing feud between the Border Patrol and Blue Demon Jr. storms on, some new players – same intensity. We welcome all fans to come out and enjoy a great night of entertainment. Every year we have a bigger crowd from the year before and we are thankful for the response.
Get your tickets today… Viva!
MAIN EVENT – TAG TEAM CAGE MATCH
"La Migra™" Derek Sanders & Bryan Cage
vs.
El Mariachi & Blue Demon Jr.
MANO A MANO
"La Familia de Tijuana" Damian 666 vs. "El Tigre Blanco" Mascara Sagrada
SPECIAL ATTRACTION
Famous B. vs. "Super-Mex" Hernandez
Vaquero Fantasma vs. Gallo Tapado Jr.
Los Luchas vs. "Kung Fu Hustle" Willie Mack & Ultimo Panda
"La Migra™ "Savanah Riley vs. Nicole Savoy
Persian Dynasty vs. Los Campesinos