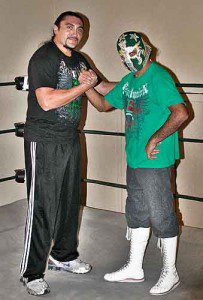 As part of WrestleFest 2010, Pro Wrestling Revolution is offering our Limited Time Discount! If you and a friend sign up at WrestleFest 2010, we will offer a "2 for 1 deal",  thats over $2000 in savings!
Pro Wrestling Revolution offers American Wrestling, Lucha Libre, Managerial and Referee  classes,  with no contracts, Professional Trainers, training for both males and females.
Our trainers have direct industry experience with WWE, TNA, CMLL, Puerto Rico and Mexico. In addition international tours of Japan, Canada and Portugal.
Stop by our booth and meet our trainers for more information at WrestleFest 2010 or contact info@prowrestling-revolution.com
Dreams into Reality…Join the Revolution!