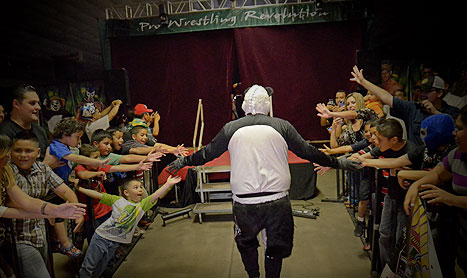 We still cant get over how special the weekend was on so many levels. So much work went into making this weekend special. When we had our first show in San Jose, I never thought of having a Main Event like we did this past weekend, a crowd like we did, along with everything has taken place over our years.
El Mariachi's victory over Bryan Cage for the Pro Wrestling Revolution Jr. Heavyweight title, in Turlock, will stay with me for years to come, and the entrance to the Main Event with Blue Demon Jr , KAFU and El Hijo del Santo was breath-taking, simply fabulous.
The crowd in Turlock, was our best turn out yet, and it couldn't of come at a better time, than our 5 year celebration. To my entire roster, homegrown, from Southern California, from Mexico, thank you. Muchas gracias, estoy muy agradecido, todo el apoyo de tanta gente, muchas gracias.
To our production staff, Nic Aragon, and his team. along with Brandon Batten thank you. To my kids from the Pro Wrestling Revolution Training Academy, you guys killed it. Your time will come.
We are never done learning, growing and making our dreams into reality.
¡Viva la Revolución!