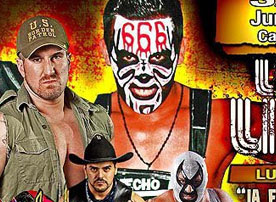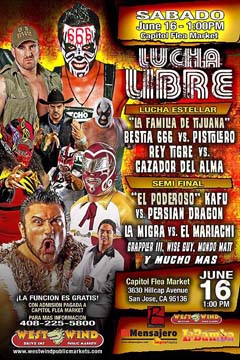 Pro Wrestling Revolution and West Wind Drive-Ins and Public Markets have to come a three show deal starting this June 16th. We are excited to be working with West Wind as they have been around for many years and are established. They are looking for professional Lucha Libre with a touch of Revolution to give their clients a day of shopping, eating, Lucha Libre and then, end it with a movie at the Drive In!
We welcome to Pro Wrestling Revolutuion, from "La Familia de Tijuana" the son of Damian 666… he is Bestia 666. Many have seen him on Lucha Libre TV and many here in the states have seen him on PPV for Urban Wrestling, and now we bring you the opportunity to see him live.
We encourage to all come out and enjoy a great day of Lucha Libre…. the events are free with paid admission… ¡Viva la Revolución!
MAIN EVENT
Cazador del Alma vs. Bestia 666 vs. Rey Tigre vs. El Pistolero
STUDENT VERSUS TEACHER
Persian Dragon vs. "El Poderoso" KAFU
Sheik Kahn Abadi & The Grappler III
vs.
"Polyester Express" Matt Carlos & Wise Guy
"Border Patrol" Derek Sanders vs. El Mariachi