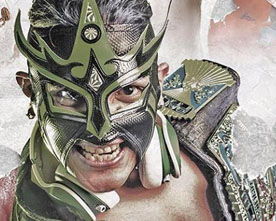 Pro Wrestling Revolution opens the 2016 season with its return to San Francisco! It is always exciting to do our events here and this year is no different. We have the debut of second generation lucha libre superstar who is known for his work world wide, from his time in Japan, with World Championship Wrestling ( WCW ) as part of the L.W.O and of course Mexico, as part of  "The Dinastia Wagner", he is Silver King!
We have the JUICE! Pro Wrestling Revolution Jr. Heavyweight Champion, Juventud Guerrera makes his presence in city by the Bay, along with Woman's Champion Christina Von Eerie and all your Revolution estrellas!
Get your tickets today! #Viva!
MATCHES
Lucha Estelar
El Mariachi ™ & Juventud Guerrera vs BorderPatrol ®
Semi Main Event
El Vaquero Fantasma vs. Silver King
Pro Wrestling Revolution Woman's Title
Kianna Rivera vs. Christina Von Eerie (c)
Tag Team Match
Los Chicanos vs. "Kung Fu Hustle" – Willie Mack & Ultimo Panda
Special Attraction
"Angel of Flight" Mike Matthews vs. El Campesinos II
Lucha de Cuatro Esquinas
Anarkya vs. Estilo Mexicano vs. Cazador Del Alma vs. Gallo Tapado Jr
Rookies Collide
"Papa Esco" Raul Escobar vs. Psymon Cross
Referees: Alex Chang, Toby Reynolds & Sparkey Ballard