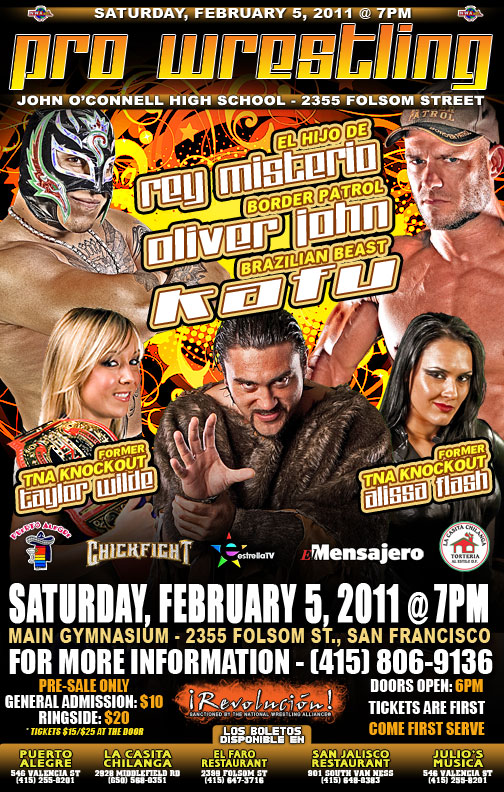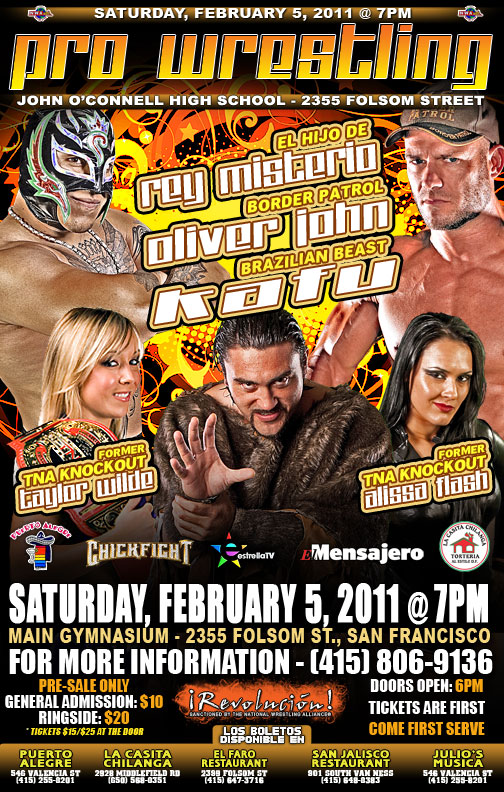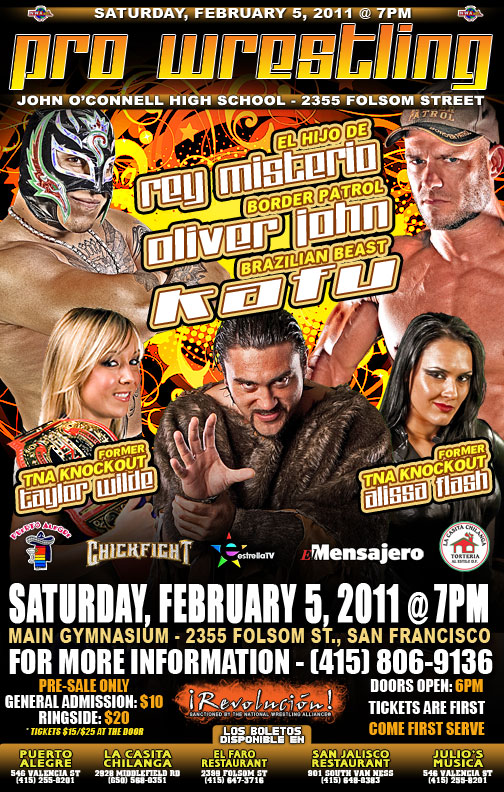 Pro Wrestling Revolution makes it return in 2011 in the city of San Francisco, at John O'connell High School. We bring an exciting night of Lucha Libre – Pro Wrestling, and we are sure that all our fans will enjoy what we have in-stored for them, so join us, on Saturday, February 5th, 2011.
This show, like all others that have taken place in at the school, is a fundraiser to help and give back where we can. This is our 3rd year and we will do our best, like we have in the past. Take a look back at our work from years past, a piece from San Francisco newspaper, the Mission Local.
On this night, we have the debut of new talent, from Bay Area and in ring debut for new, young luchador. We are excited to see them on our shows and hope they can find a home here. The debut of former WWE Diva – Tiffany as she takes on former TNA Knockout – Alissa Flash, a match that many have been talking about, brought you by ChickFight and Diva-Dirt.
LUCHA ESTELAR
Vaquero Fantasma y Amnesia vs. Hijo de Rey Misterio y Anarkia
SEMI MAIN EVENT
"Border Patrol" Oliver John vs. KAFU
TAYLOR WYLDE RETIREMENT MATCH
Alissa Flash vs. Taylor Wylde
"Border Patrol" Derek Sanders & Bryan Cage
vs.
El Hijo de Chupacabras y El Dragon de Plata II
Timothy Thatcher vs. Mr. Wrestling iV
FOUR CORNERS MATCH
El Mariachi vs. Vinnie Massaro vs El Cazador vs. El Galactico