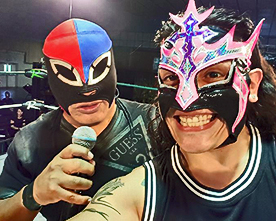 Pro Wrestling Revolution returned to Watsonville at the Watsonville Fairgrounds on Sunday June 21st, 2015 as we celebrate Father's Day, Dia del los Padres. What better way to celebrate it by having two sets of generations of luchadores wrestle on our event!
We had La Familia de Tijuana lead by Damian 666 and his son Bestia 666 and La Dinistia Guerrera lead by Fuerza Guerrera and his son Pro Wrestling Revolution Jr. Heavyweight Champion, Juventus Guerrera.
It was such a great time had by all and we look forward to our return!
Results:
PRO WRESTLING REVOLUTION JR HEAVYWEIGHT TITLE: Juventud Guerrera over Bestia 666
Hijo de Carta Brava & Damian 666 over Cazador del Alma & Fuerza Guerrera
SPECIAL ATTRACTION: "Kung Fu Hustle" Willie Mack & El Ultimo Panda over La Migra ® – Colt Stevens & MPT
Grappler III over El Mariachi
Los Campesinos over Los Chicanos
Vinnie Masarro over El Pistolero