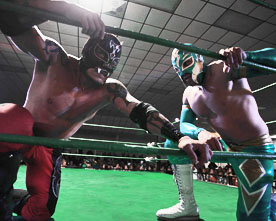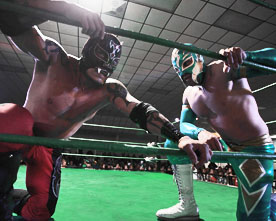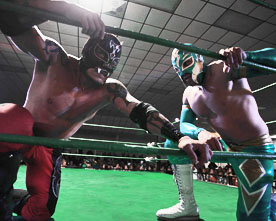 Pro Wrestling Revolution started it's 2014 season of Lucha Libre in Watsonville, California with standing room only. With so many questions going into the show, all were answered as our fans came out in support and made this a great night.
We had the debut of Los Campesinos, the newest graduates of the Pro Wrestling Revolution Training Academy, along with Nicole Savoy, Savanah Riley and the son of the legendary  Dinamita family, Cien Caras Jr as he seemed out Revolution gold as he faced Pro Wrestling Revolution World Heavyweight Champion – Blue Demon Jr.
The Border Patrol was able to bring gold to the group as Derek Sanders defeated El Mariachi with help, of sorts from his valet. Things are not quite clear why it happened, but mariachi seemed to forgive her. Only time will tell, but for now, your new Pro Wrestling Revolution Jr. Heavyweight Champion – Derek Sanders.
Results:
Blue Demon Jr. over Cien Caras Jr
"EL Patron" Oliver John over KAFU
Derek Sanders over El Mariachi
Los Luchas over Hijo de Rey Misterio & Extreme Tiger -"Kung Fu Hustle" Ultimo Panda & Willie Mac Mack – Famous B & Brian Cage
Savannah Riley over Nicole Savoy
Los Campesinos over Rik Luxury & Ray Rosas

Images: