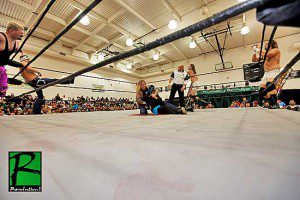 We have come full circle in Santa Maria… in the sense that we were able to change with the times and the situations from the last time we were there. We are thankful to have had a little over thousand fans there and we are ready for the event. We have made some decisions at this event that have changed things a little bit.
We have made many new friends and look for them to have an impact on our presence in Santa Maria on June 26th at the Santa Maria Fairpark. Already confirmed are Blue Demon Jr taking on Oliver John, "Hijos de Leyendas" Hijo de Rey Misterio and Hijo de Ray de Jalisco Jr., The Border Patrol, Latin Explosion and Super Crazy! It is going to be an exiting night… it is going to be Lucha Mania!
Hijo de Rey Misterio & Hijo del Ray de Jalisco Jr  over Felino & El Chupacabra
Oliver John over  Tito Aquino

"TNA Knockout"  Raisha Saeed over Christie Ricc

i

Vaquero Fantasma & Anarkya over Hurracan Ramirez Jr.& Golden Lion

"Latin Explosion"

El Amante & Ul

yss

es

over

"Border Patrol" Derek Sanders & Zach Reeb
Ryan Taylor over Mr. Wrestling IV
Rock of Love & Rik Luxury over The Cutler Brothers & Shinobi
"Strongman" Jon Andersen over "Polyester Express" Dave Dutra
Click here to see the images from the show!