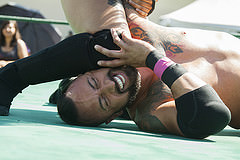 We are enthusiastic to have been part ofFiestas Patrias-El Grito Festival on September 14, 2014. It is always great to work with our media partners and this event was one to remember. A huge turnout made this that much more fun for all and especially for our wrestlers.
This show allowed us to give our students from our Pro Wrestling Revolution Academy opportunities to work on their craft and of course featuring your favorite Revolution wrestlers. We saw the debut of the The Luxurious Brothers and Nick Sterling, who I am sure is still feeling the impact from Rosa.
We want to thank EstrellaTV 42 and MundoFox 38 for the opportunity, and we will see you next year. ¡Viva la Revolución!
Results:
Kianna Rivera over "Chicano" Memo Cuevas
Los Campesinos over The Luxurious Brothers
El Pistolero over Pantera Jr.
Vaquero Fantasma over. Anarkia
Gallo Tapado Jr. over Cazador del Alma
El Mariachi over Kevin Stone
Click here for the images: