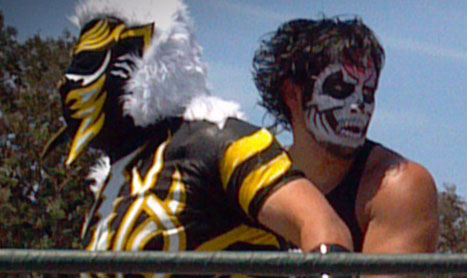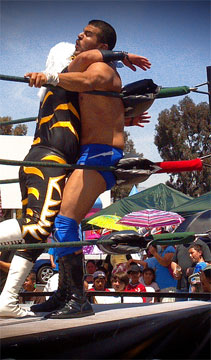 Pro Wrestling Revolution made its debut at the San Jose Capitol Flea Market for West Wind Drive-Ins and Public Markets. It was a great time had by all. Seeing the look on the kids faces as the ring was setting up was precious and then having the seats fill up once the show got started.
There were many compliments from all that were there, from fans and staff and potential new students. How could this get any better? Well, it does, as we load up and hit the road for two more shows for West Wind Drive-Ins and Public Markets in Oakland and Concord.
Having Bestia 666 on our show was special being of the relationship we have with his father, Damian 666. With so many second and third generation luchadores coming out in the last few years, Bestia 666 is one of the top of that list, his father should be very proud, he has done well and will carry on the legacy. We look forward to having him come back in 2013, that we are all looking forward to.
¡Viva la Revolución!

Here are the results:
Bestia 666 over Rey Tigre & El Pistolero
"El Poderoso" KAFU over Persian Dragon
Sheik Kahn Abadi & The Grappler III over "Polyester Express" Matt Carlos & Wise Guy
El Mariachi over "Border Patrol" Derek Sanders
Here are the images: