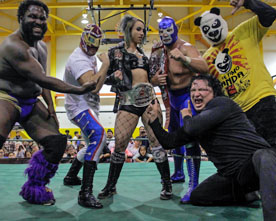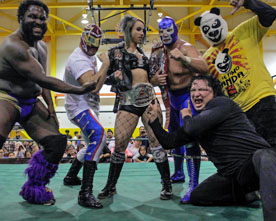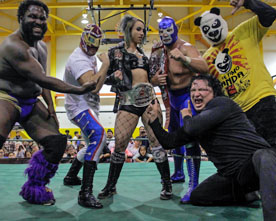 Thank you San Francisco! What a show, great matches from top to bottom, full house, new World Woman's  Champion and did I say… SOLD OUT?  So much hard work goes into our shows and when we have an event like we did this past Saturday, it will go down as one of the shows we  will never forget, right behind our debut show and our one year anniversary.
The feedback from our fans has been overwhelming and we are listening, so continue to follow us, and spread the word!
One of the most important things to point out, is that the school made money and we made a contribution, like we have for the past 5 years. We know that Bob Gamino will do his best to distribute the money to where it is needed the most.
Pro Wrestling Revolution  thanks all the fans, students, all our sponsors and all the wrestlers for such a memorable night. We will see you guys next year…¡Viva la Revolución!
Results:
Timothy Thatcher over Blue Demon Jr.
La Migra® over Vaquero Fantasma & Rocky Romero
Super Crazy, Willie Mack & Ultimo Panda over Drake Younger, Famous B & Pantera Jr.
Border Patrol® over El Mariachi™
Christina Von Eerie over Savanah Riley & Melissa Anderson
El Campesino over El Pistolero
Images: