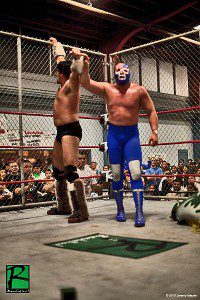 King City loves wrestling / lucha libre and last night they came out in numbers to watch Pro Wrestling Revolution's first show in their town for 2010. A crowd of a little over 1,000 fans came out and we cant thank them enough. With the recession taking its toll on all of us, the support speaks volumes on what our product means to them.
Blue Demon Jr. has a new home in King City, as they can't get enough… and at the same time, KAFU picked up from when we last saw him and became an over night sensation. Vaquero Fantasma is on the same boat but with not the same amount of fans in his corner.
We can't thank our photographer enough for all his work, and remember , © 2010 Jeremy Maurer.
Here are the results and the images of the show.

"El Patron" Oliver John over Blue Demon Jr.
Mini Ultimo Dragon over Pierrothito
Vaquero Fantasma &Â KAFU was a DOUBLE DQ
"Latin Explosion" over El Chupacabra & Rey Tigre
The Polyester Express & Mr. Wrestling IV over "The Border Patrol" & Rik Luxury
Captain Calico over "Rock of Love" Billy Blade