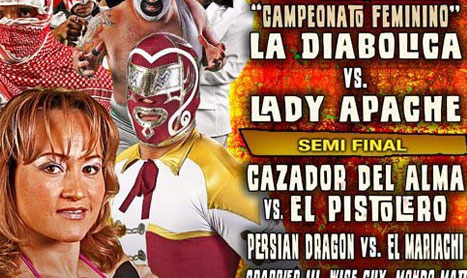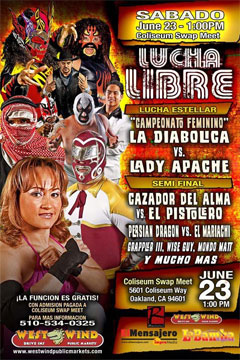 We are excited to be working with West Wind as they have been around for many years and are established. They are looking for professional Lucha Libre with a touch of Revolution to give their clients a day of shopping, eating, Lucha Libre and then, end it with a movie at the Drive In!
We welcome back to Pro Wrestling Revolutuion, from Consejo Mundial de Lucha Libre (CMLL) Lady Apache, Pro Wrestling Revolution Woman's Champion. Those who had the opportunity to watch Lady Apache wrestle in the past, know she brings her top game at all times and is one of Mexico's living legends.
Making her debut in Pro Wrestling Revolution, and taking on Lady Apache is former Consejo Mundial de Lucha Libre World Woman's Champion, La Diabolica! She has been a main stay in Mexico not only for CMLL but also for Asistencia Asesoría y Administración (AAA). A classic lucha libre match for the Revolution gold!
We encourage to all come out and enjoy a great day of Lucha Libre at the Coliseum Swap Meet in Oakland…. the events are free with paid admission… ¡Viva la Revolución!
CAMPEONATO FEMENINO de la REVOLUCION
La Diabolica vs. Lady Apache
SPECIAL ATTRACTION
Sheik Kahn Abadi & The Wise Guy vs. El Mariachi & El Ultimo Panda
The Grappler III vs. La Pantera Jr.
El Pistolero vs. Rey Tigre