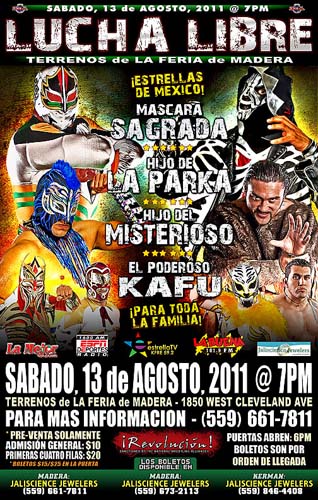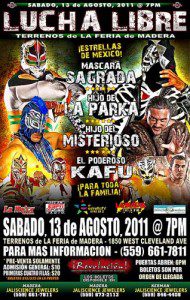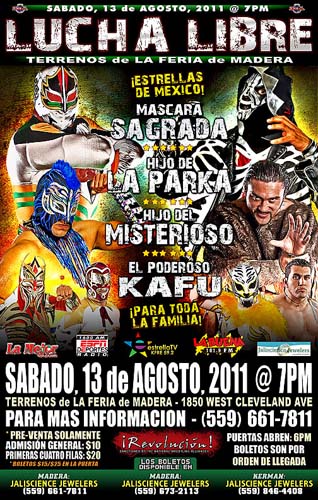 Pro Wrestling Revolution makes its debut in Madera at the Madera District Fairgrounds on Saturday August 13th. We are excited to make new fans and provide them a show like they have not had before. We arrive with a great line up of stars from Mexico and all of our Pro Wrestling Revolution stars.
We welcome back Mascara Sagrada, a living legend in Mexico, Hijo de LA Park, Hijo del Misterioso, the Border Patrol®, led by "El Patron" Oliver John, KAFU and many more!
We are thankful to all our sponsors for making this a well received event and we look forward to working with them in the future.
LUCHA ESTELLAR
Hijo de La Parka y Mascara Sagrada vs. "Rey de la Gullltina" Anarkia y Hijo de Misterioso
SPECIAL ATTRACTION SIX MAN TAG
"Poderoso" KAFU & El Dinamita & El Galan vs."Border Patrol" Bryan Cage & Derek Sanders & Oliver John
PRO WRESTLING REVOLUTION JR TITLE
Famous B vs. Kung Fu Panda vs. La Pantera
MANO A MANO
Cazador del Alma vs. El Mariachi
Mr Wrestling IV vs. The Grappler III