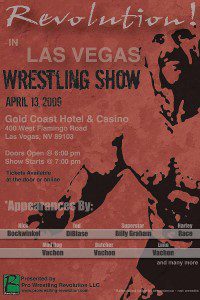 Are you a professional wrestler that is interested in showcasing your talents in front of Pro Wrestling legends such as Harley Race, Nick Bockwinkel, Ted DiBiase and Superstar Billy Graham at the Pro Wrestling Revolution's Las Vegas show at the Gold Coast Hotel and Casino on April 13th, 2009? Want to see your name on a booking sheet amongst other rising stars such as Cheerleader Melissa, Amazing Kong, "Old School" Oliver John, Chris Hero and more!
Pro Wrestling Revolution has limited openings available for up-and-coming professional wrestlers at this prestigious show and will be holding tryouts on Monday, April 13th at noon at the Gold Coast Hotel and Casino. Potential participants must be a formally trained Professional Wrestler in possession of promo pictures and need to be current members of the Cauliflower Alley Club. For more information on becoming a Cauliflower Alley Club member, please visit www.caulifloweralley.org.
Pre-register for Pro Wrestling Revolution's try-outs by emailing: info@prowrestling-revolution.com with the following information
Full Name
Wrestling Name
Professional wrestling training information
An email with all pertinent information will be sent upon receiving your pre-registration.