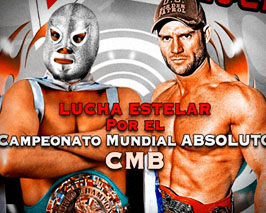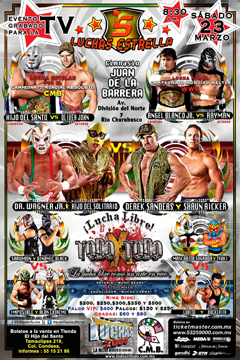 Pro Wrestling Revolution is proud to be working with Todo por el Todo, a promotion ran by Mexican Legend, El Hijo del Santo. Saturday, March 23, 2013, La Migra® head over to Mexico City, at "Gimancio Juan de la Barrera". The team of Derek Sanders and Shaun Ricker have their work cut out for them as they take on the team of Dr. Wagner Jr. and El Hijo del Solitario, in a tag team semi main event match.
In the Main Event, you have Pro Wrestling Revolution World Heavyweight Champion "El Patron" Oliver John takes on El Hijo del Santo for the CMB Title. The opportunity for Oliver John to hold 2 world titles is a great opportunity  and only time can tell. This event is being televised in Mexico.
El Hijo del Santo ("The Son of the Saint"), is a political activist and one of the most successful stars in Lucha Libre. He is the youngest son of the legendary professional wrestler, film actor and Mexican folk hero El Santo. Like his father, el Hijo del Santo has also crossed over into other media. He is the subject of a comic book published and appeared on the Mexican reality show Día de Perros. He was also the star of a 5 episode animated series on the Mexican version of Cartoon Network titled Santo Contra Los Clones (Santo Vs The Clones). In the summer of 2007, he became a spokesperson for Wildcoast, an environmental non-profit organization, and campaigned to save sea turtles on the Gulf of Mexico from extinction.
We wish our Champions the best of luck…Viva!