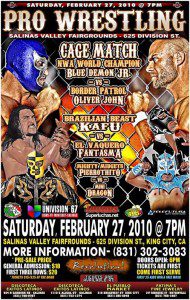 Pro Wrestling Revolution returns to King City at the Salinas Valley Fairgrounds with an incredible night of wrestling and lucha libre. We have the minis making their presence felt  at the show with Pierrothito from  el Consejo Mundial de Lucha Libre in Mexico.
Making his Pro Wrestling Revolution debut, we welcome KAFU as he jumps right in and takes on Vaquero Fantasma.
The match that King City has been demanding for, it is a match between "El Patron" Oliver John from the Border Patrol taking on the NWA World Champion, Blue Demon Jr., in a cage! These two have made it clear in Mexico and here in the States, they flat out, don't like each other.
CAGE MATCH
"El Patron" Border Patrols' Oliver John vs. "NWA World Champion" Blue Demon Jr.
MINIS MATCH
Pierrothito vs. Mini Ultimo Dragon
SPECIAL ATTRACTION
Vaquero Fantasma vs. KAFU
El Chupacabra & Rey Tigre
vs.
"Latin Explosion" Ulysses & El Amante
"The Border Patrol" Derek Sanders & Bryan Cage & Rik Luxury
vs.
The Polyester Express & Mr. Wrestling IV
"Rock of Love" Billy Blade vs. Captain Calico
Ger your tickets here!