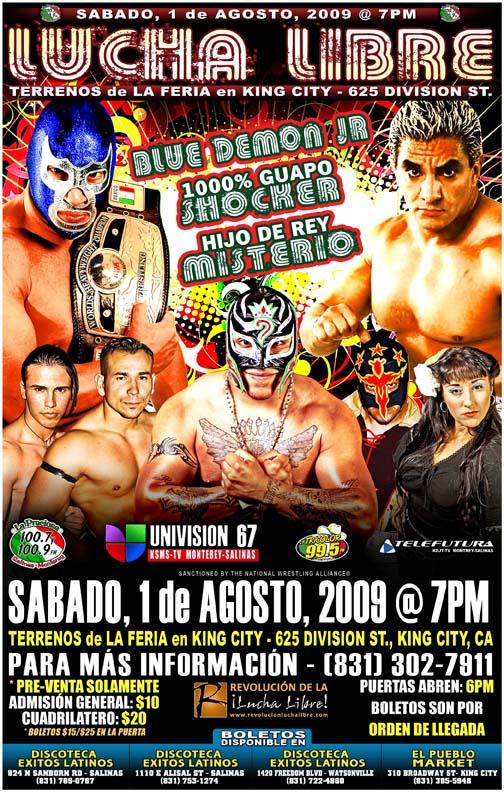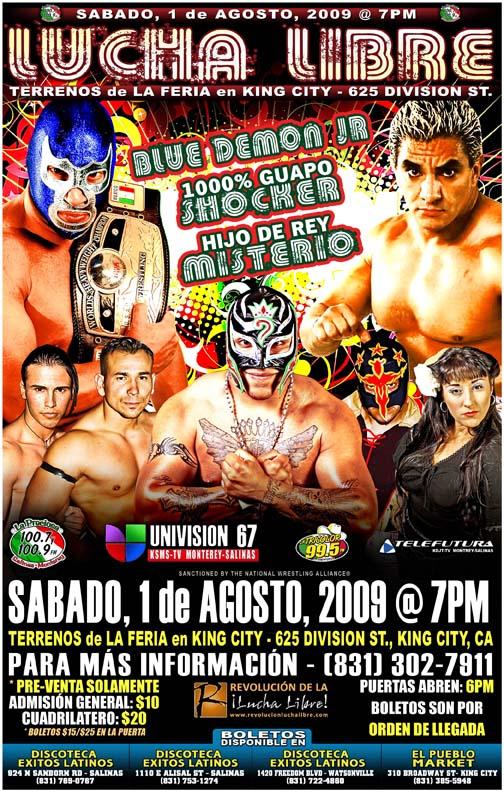 Pro Wrestling Revolutions returns to King City on August 1st with a great show. This show has the return of Blue Demon Jr. to King City, and the debut, of one of Mexico's most popular stars, 1000% Guapo – Shocker! The fans of King City asked for the rematch when we last were there in February, and if that is what they want, that is what they are going to get.
The ongoing feud between NWA World Heavyweight Champion Blue Demon Jr. and Pro Wrestling Revolution Heavyweight Champion Oliver John is now carried itself to a new level. Once they had their cage match, many thought that was the end of it, but it seems it is far from the truth. The NWA has taken notice and we hope they can help in this matter.
%1000 Guapo – Shocker has wrestled all over the world, including stops in TNA here in the United States. His first match with Revolution is by far going to be a big battle and we look forward to seeing the best of both competitors.
GRUDE RE-MATCH – NO DISQUALIFICATION
"Border Patrol" – Oliver John
vs.
Blue Demon Jr.
SPECIAL ATTRACTION
"Border Patrol" – Zack Reeb
vs.
"1000% Guapo" – Shocker
FOUR CORNERS – ELIMINATION MATCH
Hijo de Rey Misterio vs. Vaquero Fantasma vs. Mr. Wrestling IV vs. El Amante
"Border Patrol" – Derek Sanders
vs.
"Latino Explosion" – Ulysses
El Dragón Oscuro II vs. Jon Andersen
"Designer Ink" – William Blade & Adam Thornestowe w/Holly Hearse
vs.
"Polyester Express" – Dynomite Dave & Mondo Matt w/ "Dazzling" Dixie Lane
Get your tickets here!