SAN FRANSICO CINCO DE MAYO Festival is a wonderfully unique experience–Bring your picnic blanket and entire family, including los abuelos/grandparents, to enjoy the sun, cultural entertainment, recreation and dramatic city view!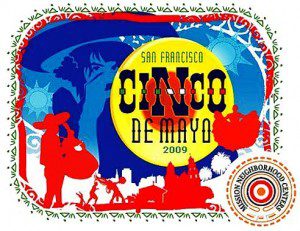 FREE hypertension health screening, sponsored by the American Society of Hypertension (ASH), including blood pressure, glucose, and cholesterol testing with onsite results and referrals —FREE health tools given away to adults and children while they last!
This Year's Mascot: Cartoon Network's "Scooby Doo" will be at the park taking pictures and giving paw-prints to dog lovers and the kids too!
MNC's festival's goal is to promote education, healthy lifestyle and alternative resources for family/children by introducing new, "Health", "Education" and "Going Green" sections featuring community non-profits, county/state agencies, and retail vendors along with our traditional/cultural arts/craft/food vendors—all in an alcohol-free environment.
The stage program will include Univision morning show "Al Despertar's" delightful host, Kira Vilanova, as SF Cinco's event mistress of ceremonies, as well as LA rockeros "Zhono" and "Futuro Picante", Mariachis "Colima" and "Femenil Orgullo Mexicano", Azteca/Folklorico Dance, illusionist "Anthony the Magic", Soloist "Berta Olivia", "Lucha Libre" personalities and more.
This event targets 10,000 families which is 4+ (parents, child+, and grandparent) via our outreach to SF Unified School District student/families, our multichannel media partners COMCAST, Univision KDTV14, TeleFutura 66, Radio LaKalle, general KISSfm, MOVINfm, and Green960am, print, web placement and transit partner BART via bay area wide electronic platform signs and more.
WHY: The event benefits the Mission Neighborhood Centers, Inc., Celebrating 50 years of Community Service "1959-2009" (www.mncsf.org). Since 1959, MNC has provided a wide variety of social services through quality programs that promote self-sufficiency and community growth for the Mission District's low-income residents through their Head Start, Youth Development and Senior Services Programs.
Event Sponsors: Mission Neighborhood Centers, Inc., SF Grants for the Arts, Comcast, American Society of Hypertension, Wells Fargo, Western Union, SF Health Plan and more.
For more information, please visit the official website for the San Francisco Cindo de May Celebration here.