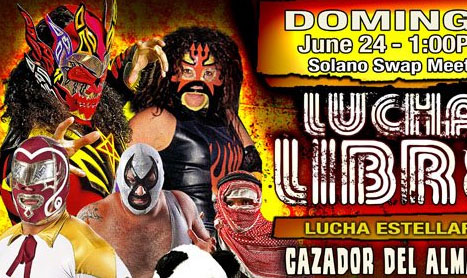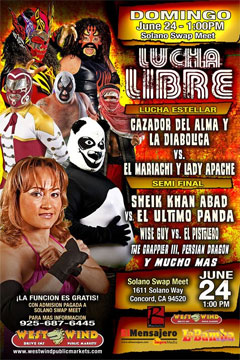 We are excited to be working with West Wind as they have been around for many years and are established. They are looking for professional Lucha Libre with a touch of Revolution to give their clients a day of shopping, eating, Lucha Libre and then, end it with a movie at the Drive In!
Pro Wrestling Revolution makes its debut in Concord at the Solano Swamp Meet and bring a great mix of Lucha Libre and Pro Wrestling. Concord gets to see a great mixed tag match that only Pro Wrestling Revolution can deliver, and the presence of the leader of the Border Patrolâ"¢, "El Patron" Oliver John, and when El Patron is around, you never, just never know what can happen.
We encourage to all come out and enjoy a great day of Lucha Libre…. the events are free with paid admission… ¡Viva la Revolución!
PAREJAS MIXTAS
Cazador del Alma y La Diabolica vs. El Mariachi y Lady Apache
The Grappler III vs. The Wise Guy
Sheik Kahn Abadi vs. Jeckles the Jester
"Border Patrol" Oliver John vs. El Pistolero