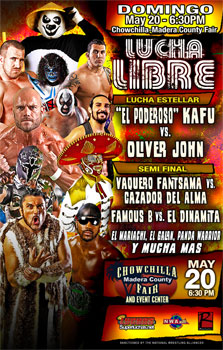 Pro Wrestling Revolution returns to the city of Chowchilla at the Chowchilla-Madera County Fair, on Sunday May 20 , with a starting time of 6:30pm. We look forward to the sights and sounds of the county fair, and of course all the families having a great time. We are thankful we are a part of the events for this Fair.
This show will feature all the stars of Pro Wrestling Revolution with many debuting faces as well. What can be better, A Fair, corn dog, lemonade and Pro Wrestling Revolution! So come on out, have a great day of entertainment. We will see you at the matches!
The fairgrounds are also home to the Chowchilla Western Stampede, the Chowchilla Speedway, a 1/3-mile oval dirt track, with racing March through October, and the Chowchilla Barn Burner.
LUCHA ESTELLAR
Oliver John vs "El Poderoso" KAFU
MANO A MANO
Cazador del Alma vs. El Galáctico
"Wolverine" Bryan Cage & Ultimate Panda vs. Derek Sanders & The Grappler III
"Notorious" Famous B vs El Dinamita
Persian Dragon & Sheik Khan Abadi vs. El Galan & El Mariachi