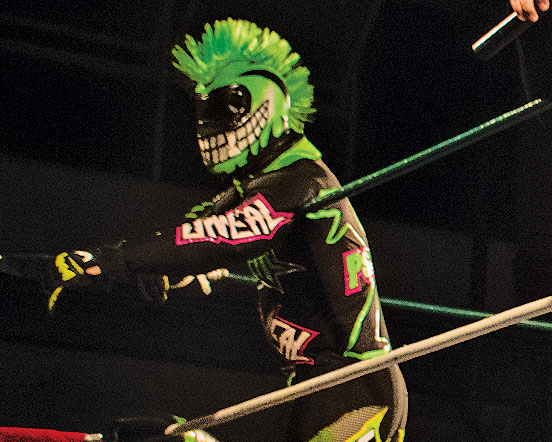 Before the motorcycles, before the lights, even before the death defying stunts, there was a boy who loved wrestling. Growing up I watched WWF and WCW religiously. Eventually, I began wrestling myself, first with stuffed animals and then my friends. We made crappy wrestling rings out of used mattresses and bought every professional wrestling training VHS and DVD we could get our hands on to. I joined my High School wrestling team and was disappointed I couldn't give my opponents a pile driver or a stunner.
After graduation, there was nothing my best friend and I wanted more that to be professional wrestlers. We went to tryout at a now long dead wrestling school in Hayward, traveling all the way from Sparks, Nevada, to attain a chance at a free scholarship. I won those tryouts and became a student, living my dream; however, my dreams would soon be crushed. The trainers were horrible to us and treated us like trash. They gave opportunities to the biggest and buffest students with the least skill and the rest of us had to work hard to even get a small chance. I began to hate wrestling and eventually quit. I thought I would never get to live my dream.
Eventually, I got a job and quit watching wrestling all together. But that passion still burned deep inside of me, but it would be buried for ten years. Then Wrestle Mania came to town and I had to go. After the show, the fire now burned hotter than ever. And at the age of 30, I began looking for wrestling schools. After hours of research, I found Pro Wrestling Revolution. I met Gabriel Ramirez, the owner, and explain my previous experience and how I wanted to avoid the mistreatment of the past. Gabriel reassured me that he had the same trainers and would never run his company like that. As I walked around that first day I knew this was a family and I wanted it to be mi familia.
I started practicing and with the a lot of help and mentoring of the legendary Robert Thompson and Vinny Massaro, I ended up in my first festival show with in three months. It was hard work, but at Pro Wrestling Revolution, hard work is rewarded. I kept working and ended up in my first real show. It was surreal. A huge crowd, lights, incredible entrance, and finally the ability to fight on a big stage, my dream has been realized. Psymon Cross was born and the rest is history.
Pro Wrestling Revolution is my life, my dream realized, and I am proud to say mi familia. The trainers are of the highest quality and the owner Gabriel is amazing. They really do turn dreams into reality. I owe everything to these amazing men and women.
So now you know the story behind Psymon Cross. This life is not without perils and hardship, but anything worth doing is. If you are nervous or afraid to try I only have this to say to you, if you don't risk the fall, you will never know what it is like to fly. VIVA!