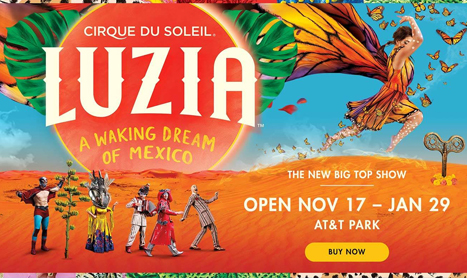 Pro Wrestling Revolution, LLC has had many opportunities over the years, from working with the Oakland Athletics, San Jose Earthquakes, San Francisco Giants, features on Netflix , Discovery Channel, and now, we make our return to AT&T Park to take part in a special event.
LUZIA by Cirque du Soleil premieres in the US in San Francisco under the Big Top on November 17. LUZIA takes you to an imaginary Mexico, like in a waking dream, where light quenches the spirit and rain soothes the soul.
Pro Wrestling Revolution, LLC will be be part of this magical occasion as part of the Premiere Night festivities.. We are humbled and thankful and can't wait to be a part of this… Walking Dream of Mexico, as dreams come to reality.