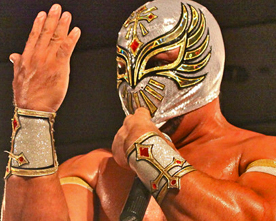 Pro Wrestling Revolution returedto Santa Rosa on March 26th at the Santa Rosa Veterans Memorial Auditorium. This show was SOLD OUT,  "No Mas Boletos" was heard at the ticket window,  as it had the return of Rey Misterio Sr.'s son, Hijo de Rey Misterio, who made his 1st appearance in many years, and of course the debut of the man of many faces, the orginal Sin Cara , El Príncipe de Plata y Oro – El Orginal Mistico.
A night we will not soon forget! If you missed it live, you can remove the magic on the FITE.TV app or on www.WWNLive.com
RESULTS:
Caristico over Bestia 666
Rey Misterio & Anarkya y Meteoro y Pistolero over
Vaquero Fantasma & Cazador Del Alma y Estilo Mexicano y Damian 666
BorderPatrol® over Los Campesinos II y El Mariachi vs.
El Ultimo Panda over "El Chicano" Memo Cuevas
Arkady overFedorov w/Dimitri Romanov
"Papo Esco" Raul Escobar over La Pantera Jr.
IMAGES:
[fsg_gallery id="5″]